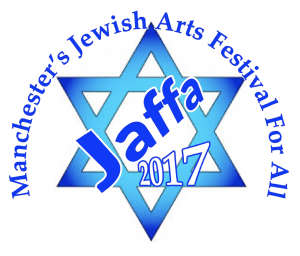 Sunday 2nd July looks like it will be THE BIGGEST COMMUNITY DAY OF THE SUMMER!It will mark the start of Manchester's first Jewish Arts Festival For All (JAFFA) to be held at Manchester Jewish Museum with a marquee in the museum garden extending the space available for activities. There will be plenty to interest and entertain all the family with a host of stalls, demonstrations, tastings, talks, viewings, children's activities, music and more! This all for the most reasonable price of £10 for Adults and £5 for children, with sponsorship opportunities also available. Bookings can be made at www.JAFFA2017.eventbrite.com.
Chairing the JAFFA committee is community stalwart Herzl Hamburger, who said, "We are sure that this event will become a major part of our Manchester Jewish Community's Cultural and Gastronomic Scene, and will be well supported by all the community and their families." Herzl has brought together a strong group of volunteers with diverse expertise. This includes Marilyn Blank, who is co-ordinating the 'Food, Wine & Arts Day' at the Museum. Marilyn said, "This is a new and exciting summer event for the community and we hope you will support and enjoy it."
The idea for this new initiative came from Jewish Representative Council Chair of Executive, Jonny Wineberg, who recognised a gap in such a provision for Manchester. "Leeds has run a Jewish Arts Festival for many years and it has been an ambition of mine to see this replicated in Greater Manchester for some time. Our events this summer will be a first step to hopefully many more Jewish arts events in the City Region."
The day will start with a guided heritage walk around Cheetham Hill, setting off from the museum at 11am and lasting an hour. Activities in the museum itself will start at 12 noon. Visitors will be able to sample food and drink from local kosher suppliers (Beth Din approved). Family entertainment and activities will be provided with a children's corner in the marquee. In addition to food and drink stalls, there will be a packed programme of events and entertainment.
The day will see popular klezmer band, L'Chaim Kapelye return to the museum. A new art exhibition will also open for the festival, showcasing paintings of Manchester by artist, Tony Raynes.
Dr. Tony Raynes left Manchester nearly half a century ago. But this Boston psychiatrist still remembers his childhood and youth in Crumpsall and Cheetham Hill. Despite a busy practice, he spends his spare time recreating his childhood scenes in glorious colour. JAFFA is thrilled to be able to bring you these evocative, brilliant paintings recalling his youthful days at Balkinds Cheder, Crumpsall Lane and Bury Grammar Schools.
Running Order for JAFFA Sunday 2nd July 2017
11am Guided heritage walk around Cheetham Hil
Synagogue

Available throughout the day

Art exhibition by Dr.Tony Raynes

12pm L'chaim Kapelye Klezmer Band

12.45pm Carmel Berke talking on nutrition

1.30pm Carol Jason Celebration band

2pm Official Opening

2.15pm Q and A with artist Dr. Tony Raynes

3pm L'chaim Kapelye Klezmer Band

3.40pm Kedem winetalk

4.30pm Carol Jason Celebration band

Times may be subject to change

Marquee

Available throughout the day

Café
Confectionery stall
Wine tasting
Spice selection
Sweet table
Hungarian cookery corner
Museum stall
Children's activity area, including crafts and story telling

12pm Fruit carving with Roz Livshin

1pm Decorate cupcakes with Tova Ellituv

3pm Cookery demonstration by Sula Leo
The Festival will continue the following evening with a Comedy Night at Manchester's Comedy Store. The evening will celebrate the very best in UK Jewish Comedy with a stellar line-up of Josh Howie, Bennett Arron, Mark Maier, Sol Bernstein and Adam Bloom as MC.
All the acts are well known on the comedy circuit with Adam Bloom a former Perrier Award Nominee and Polygram Award winner for best stand-up at the Edinburgh Festival. Undoubtedly one of Britain's sharpest comic brains – all this and he doesn't swear!
"He's been one of my favourite stand-ups for about ten years" (Ricky Gervais)
"In the premier league of comedy" (The Independent)
"He makes me laugh out loud, I can't wait to see him live" (Sir Ian McKellen)
"Bloom is perhaps the perfect comedian" (The List).
Bookings can be made from www.thecomedystore.co.uk/manchester/special-events.
On Sunday 9th July will be the culmination of our young people's Arts Competition with an exhibition of the winners at The Stoller Hall. That evening will see our Gala Concert featuring Greg Nogradi 'The Jewish Pavarotti' and David Ezra Okonsar, pianist, composer and musicologist, who will perform the British Premiere of his Rhapsodies Hébraïques.
For all details, keep an eye on www.jewishmanchester.org/JAFFA, email: [email protected] or call 0161 720 8721.