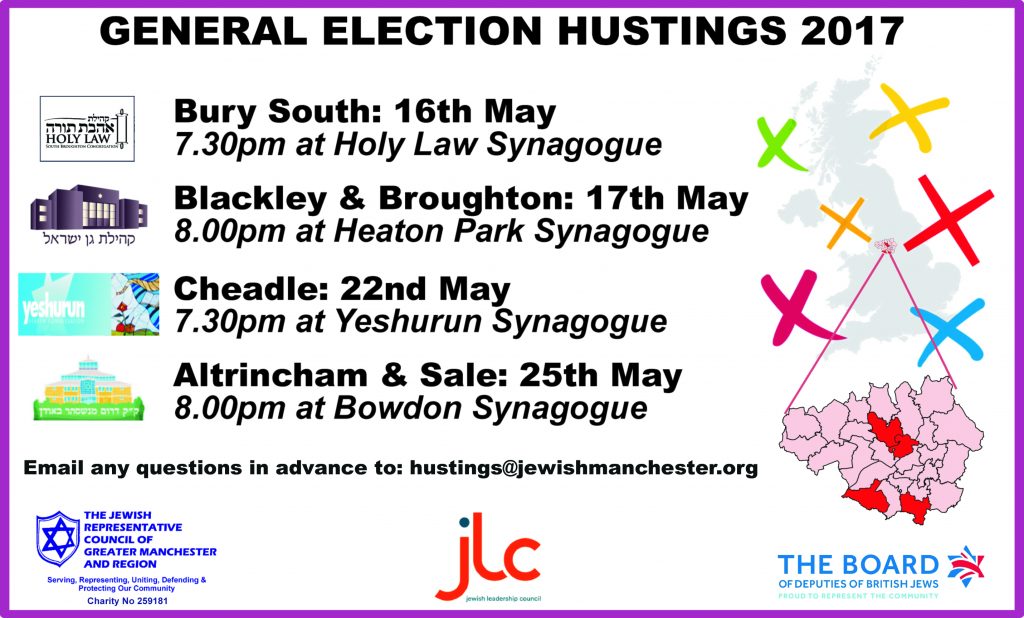 General Election Hustings for the community are being run in four seats by the Jewish Representative Council in partnership with The Jewish Leadership Council, The Board of Deputies of British Jews and Yeshurun Hebrew Congregation, Heaton Park Hebrew Congregation, Holy Law South Broughton Synagogue and The Bowdon Synagogue.
Please attend for the opportunity to question your potential representatives and make your voice heard. Please also share with other constituents.
Questions for the candidates can be submitted to [email protected]. Please state your name and which hustings the question is for. Up to 3 questions submitted in advance of the hustings will be asked of the panel of candidates. In addition the audience will be asked to submit questions in writing as they arrive, which may be asked on the evenings.
The Jewish Representative Council, Jewish Leadership Council and Board of Deputies will be partnering with four Synagogues to host communal Hustings ahead of the forthcoming election.
The details of the events are as follows:-
7.30pm 16th May – Bury South Hustings at Holy Law Synagogue.
8.00pm 17th May – Blackley & Broughton Hustings at Heaton Park Synagogue.
7.30pm 22nd May – Cheadle Hustings at Yeshurun Synagogue.
8.00pm 25th May – Altrincham & Sale Hustings at Bowden Synagogue.
We hope the community comes to support what promises to be four excellent events. The Representative Council have a strong history of hosting Hustings ahead of major elections. We are delighted to be partnering with the JLC, BOD and four Synagogues right across the region.
It is essential that our elected politicians hear and understand issues that affect the community. These forums enable the community to question all the major candidates in turn giving them an indication who would best serve the interests of our community