Supporting our vulnerable residents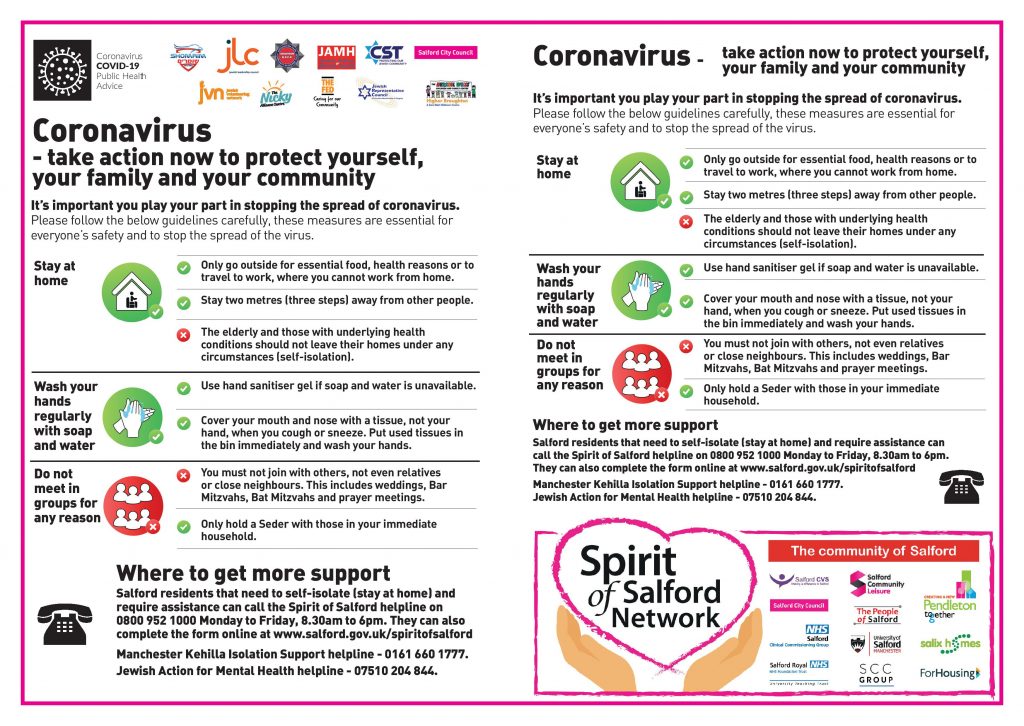 We wanted to share with you what we're doing for our vulnerable residents. Yesterday we launched the Spirit of Salford Helpline which is 0800 952 1000, along with an online form at www.salford.gov.uk/spiritofsalford. We've also posted out a leaflet to around 4000 residents who are aged 75+. Please circulate this amongst your networks and promote the helpline and web link where possible. We're also promoting this in the local press, on social media and through partner networks.
Thank you for your continued commitment and support
JAMH
JAMH ( Jewish Action for Mental Health) now has a helpline; Tel 07510 204 844.
We have access to trained therapists/ counsellors willing to offer phone support to people suffering anxiety and depression on a voluntary basis.
For your information most of them are from orthodox community.
The Friendship Circle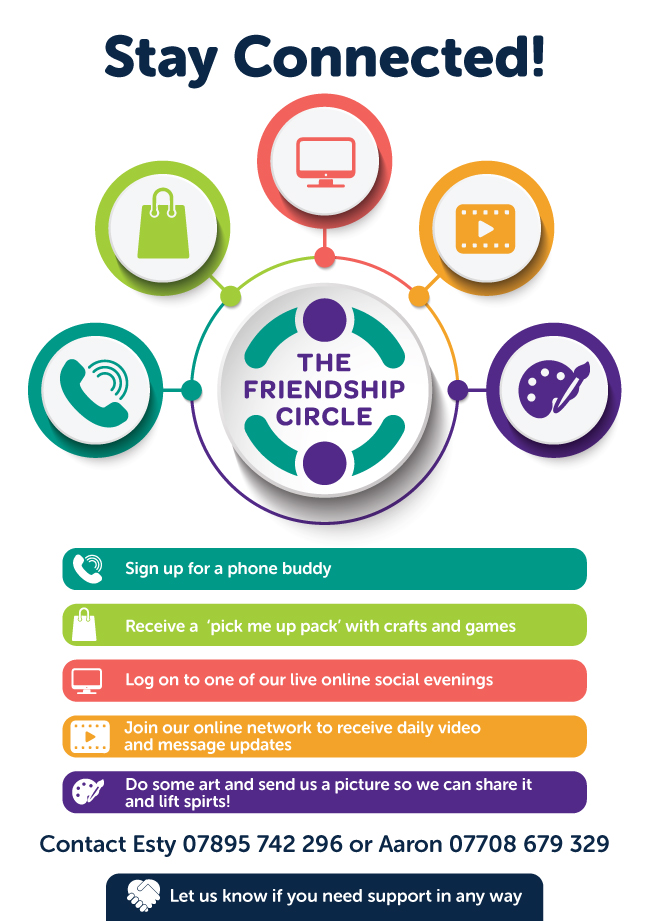 Enriching lives for people with disabilities
All staff working from home. Phone Buddy system. Online social groups and activities. Video message sharing, Pick me up packs, practical support for our members. Keeping connected.
Contact Esty Bruck 07895742296
Zehava Emunah
Dear Friend
On behalf of Zehava Emunah I am sending you this email, thinking of you and hoping you and your family are keeping safe and well.
You are probably receiving many emails, WhatsApp messages, texts etc during this difficult and challenging crisis.
Having perused many of these I feel it is appropriate to forward the following to yourselves.
Please find attached 2 posters of local practical assistance and 1 poster of addressing aspects of spirituality.
In addition one can access a very helpful guide:
https://www.nhs.uk/oneyou/every-mind-matters/coronavirus-covid-19-staying-at-home-tips/
May Hashem hear and answer all of our Tephillot and may we, our families and all Klal Yisrael be strong and healthy.
Warmest wishes
Estelle
Estelle Gillis
(On behalf of Zehava Emunah)
Shield House Harmony Way London NW4 2BZ T : 0203 818 8502 www.emunah.org.uk Registered Charity No 215398
http://www.facebook.com/BritishEmunah to visit the Emunah page on Facebook – and please 'like us'!
http://stores.ebay.co.uk/Emunah-Charity-Shop
to visit our 'Emunah on Ebay' page!
https://twitter.com/#!/BritishEmunah
to follow Emunah on Twitter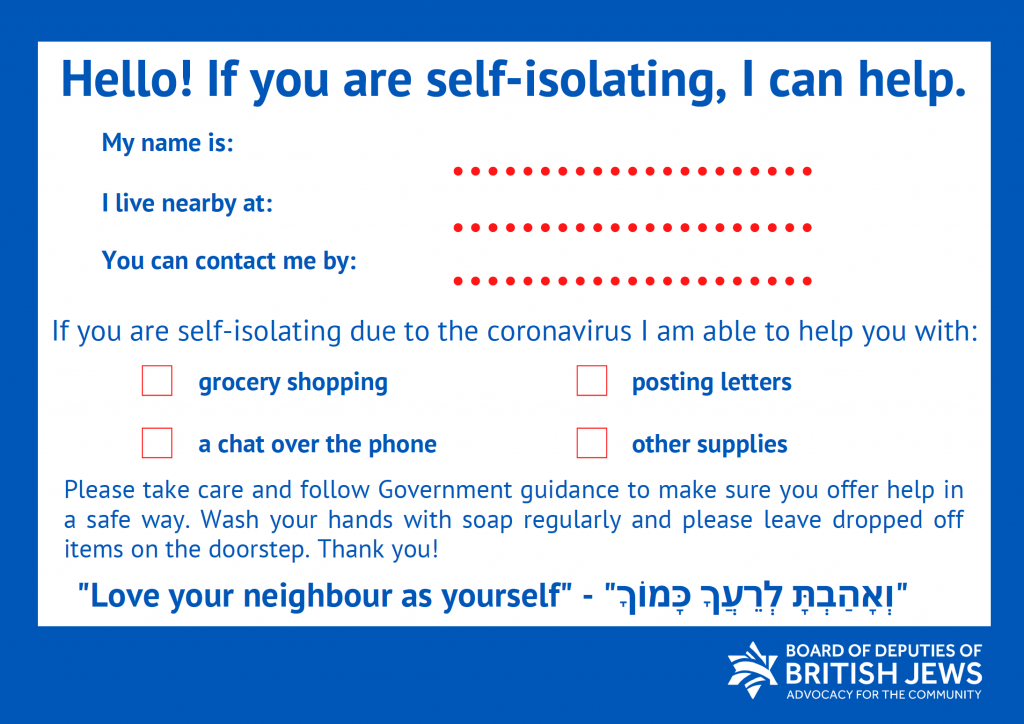 LETS SUPPORT COMMUNITIES TOGETHER
This project is being co- ordinated by the Jewish Representative Council (JRC), is to ensure that all organisations, Shuls, Community groups etc. as well as individuals are contacted to identify, what action or projects they are undertaking during the period of the Corona virus pandemic to support their community. In this period, we all need to support our community and the wider community.
We know that some areas of this community are more isolated then others and collating this information will help in targeting support to those who need it most.
The JRC have developed a team that are leading on Community issues, please respond to the office to the questions below on [email protected] so the JRC can assist with the co- ordination of support at this time.
· What is your idea for a project and what support do you need to action it?
· Do you already have a group of volunteers?
· Do you have an existing project that could be used for the benefit of the community?
· Do you need the project promoted?
· Do you require access to funding opportunities?
· How are you promoting the project at present?
· Do you require volunteers?
IMPORTANT
While we all appreciate the extra efforts, everyone is prepared to make,
WE
Have to acknowledge and comply with the Government guidelines that have recently been implemented, and NHS guidelines to control the spread of the Coronavirus (Covid-19 ).
Contact : The JRC Office – 0161 720 8721
Sent on behalf of Lynne Ridsdale, Deputy Chief Executive Bury Council
Dear all
As you are aware the community hubs are now live. We are already receiving calls from vulnerable people and providing proactive support through the VCSE sector. At this stage the Hubs are focused on identifying people in need of help and determining the community capacity available to support. We expect that the role will grow imminently to include food distribution but arrangements are still being determined nationally – more information to follow.
Please note that we have decided to advertise a single number (0161 253 5353) for the Hubs and not be specific about physical locations. This is to make it straight forward for the public to access support and avoid confusion about which Hubs cover particular towns. Be assured that Hubs will be operating locally to ensure adequate coverage but we will stay silent on these details for the public to avoid confusion. Your local Hub Lead will, however, be in touch with you this week to introduce themselves and confirm their coverage arrangements. We welcome support and engagement from Ward Councillors with this work.
In support of the work of councillors and all wider volunteers we have drafted some principles about the basis of volunteering at this time. The advice is attached and seeks to harness as much local capacity is practicable whilst keeping arrangements safe and controlling infection. (Please note that this will be formatted and re-circulated asap).
We are also mindful of the emotional health and wellbeing of our staff and all councillors at this time. The Council has therefore implemented an Employee Assistance Programme, details attached, which provides strictly confidential and 24/7 access to telephone and web based support for practical and welfare support. The provision applies to all Councillors too and we encourage you to access this support if you require any help in managing the additional pressure and emotional impact of this difficult time. Details are attached.
Finally, we have now received a number of questions from councillors which will be answered and a rhythm of FAQs will be established.
Thank you for your support
Communications Team
JVN Bulletin
Hi,
I hope you are all keeping well.
Just an email to let you know that JVN are responding to requests for volunteering where possible. We have been asking for charities to let us know of their needs and placing it on our emergency page on our website:
https://www.jvn.org.uk/emergency
In order to get people volunteering as quickly as possible, we have also set up a Facebook group for anyone to access to post their volunteering requests.
https://www.facebook.com/groups/211022106874422/
Please could you promote this group on the JRC channels?
Finally, just a reminder that JVN are a connection service and are working to link volunteers with organisations during this crisis. Those organisations looking for help are responsible for the volunteers' well-being and we advise for them to stay up to date with government advice in order to protect them to the best of their ability. A useful link here:
https://www.gov.uk/government/publications/safeguarding-factsheet-community-volunteers-during-covid-19-outbreak
Many thanks and Stay well.
Rebecca.
Rebecca Mickler
Volunteer Coordinator Manchester