Dear colleagues
I do hope you are keeping well and that your summer programmes are going well.
The Board of Deputies is excited to announce its inaugural Youth Assembly, a gathering which seeks to increase youth participation in the Board of Deputies from across the community. It will take place over Zoom on Sunday 30th August 2020. It has been organised by a committee of young Deputies – so it really is an event for young people, run by young people.
The committee would love for you to be involved in the event and invite your communities to join. Please see their message below for more information.
Please don't hesitate to be in touch if you have any questions – we'd love for you to be involved in the event and have your members join to have their say.
I do hope you will be able to encourage the younger members of your community to join in the Youth Assembly.
Kind regards.
Sara
—
Dear Friends and Colleagues,
We are excited to officially announce the launch of the Board of Deputies' inaugural Youth Assembly – 'The Kids are Alright'. This will take place onSunday 30th August 2020.
This is an exciting forum for Jewish 16-27 year olds to have their say in our community. The Zoom event will be led by young people, for young people. The Assembly will include a Q&A session with the BoD's Honorary Officers, a series of breakout rooms on topics that matter to youth today, and a keynote speaker, who will be announced very soon!
As organisations with youth leadership and empowerment at their core, we value your participation in the Youth Assembly and would like to invite you to be our esteemed partners for this event. We want the diverse and vibrant range of young Jews to feel represented by the Board of Deputies and the first step towards this is ensuring wide representation at this event which will shape the way the Board of Deputies works with young Jews in the future.
With this in mind, it's worth your while to ensure your members are present at the event so that your organisation's voice is heard. We encourage you to join us as partners and advertise the Youth Plenary to your memberbase and on your social media accounts.
Attached are a series of graphics which explain the event and how to register. The graphics are labelled to show which are suitable dimensions for Facebook, Instagram and Twitter. Please link all promotional material to either the Facebook event, or directly to the Zoom registration page. We will be sharing all promotional content through the Board of Deputies social media platforms, which are linked below so that you can follow the campaign, share and retweet.
We will send further promotional material with speaker announcements and any other important information later this week. In the meantime, please be in touch if you have any questions.
Best,
The Youth Assembly Committee,
Sally Patterson, Nathan Boroda, Natalie Deller, James Harris, Esther Offenberg & Toby Kunin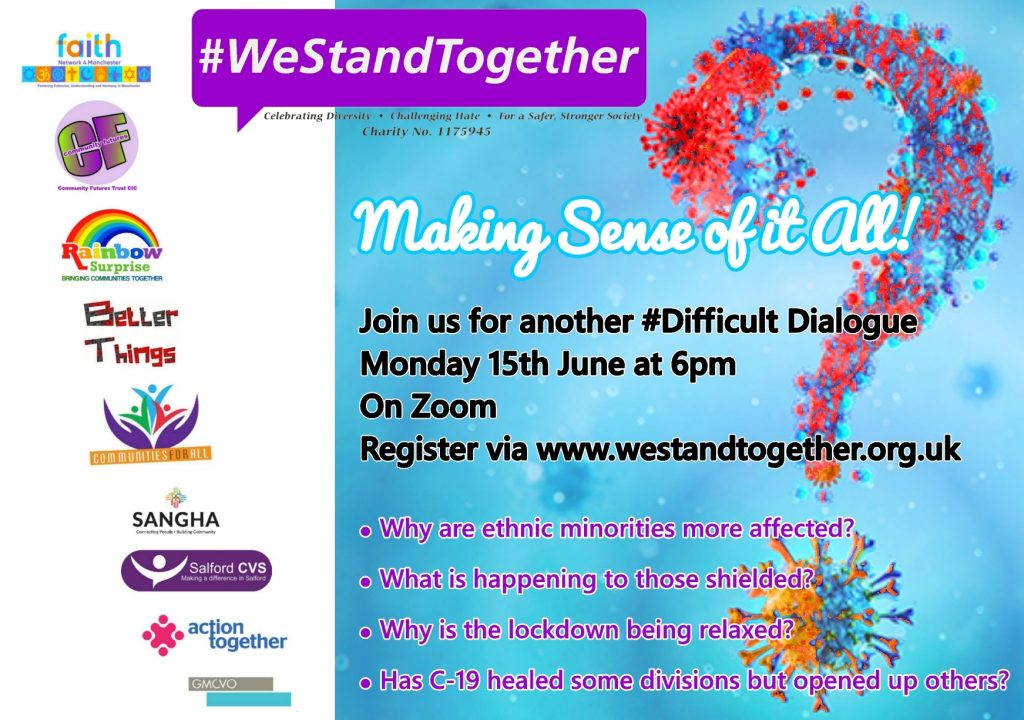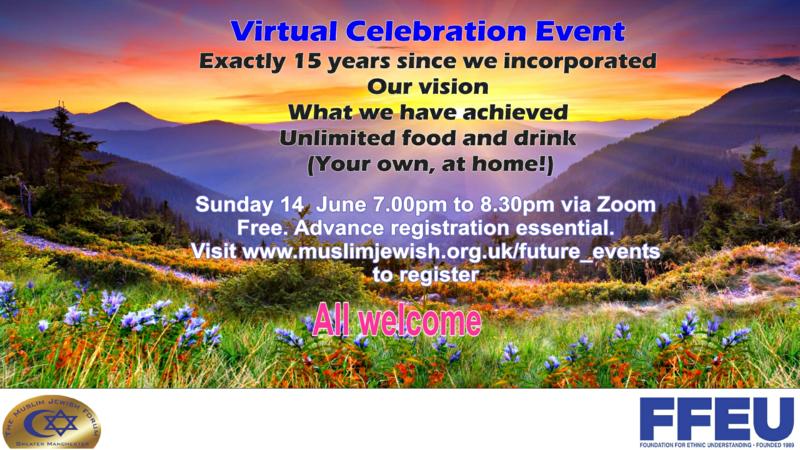 From: Slade, Claire <[email protected]>
Sent: Friday, May 22, 2020 5:19 PM
Subject: Greetings from the GMCA
Good afternoon all,
Firstly, please may I start by wishing everyone celebrating Eid al Fitr this weekend, a very happy and blessed Eid Mubarak. And similarly, to everyone observing Shavuot on Thursday, Chag Sameach.
Festivities will be very different this year, and I imagine that for most people this will be the first time celebrating online rather than with friends and family all around. I hope you all manage to do so safely with your households.
There are a few updates from the GMCA which I hope you will find useful, and as always, if you have anything you wish to flag up about how your community is dealing with COVID-19, please do get in touch with me.
Vital funding for VCSE organisations
Many of you have mentioned to me that you're concerned about the future of your own organisation, or others that provide vital support to residents. There are a range of funding packages available to support through the outbreak, including National Lottery Awards For All, Community Support Fund, Barclays' 100×100 Community Relief Programme, ESF Community Grant and Big Society Capital. More information about the support available, eligibility and how to apply can be found here:
https://greatermanchester-ca.gov.uk/news/greater-manchester-vcse-organisations-urged-to-make-sure-they-are-accessing-vital-funding/
Healthy Start food vouchers
Many of you have also raised concerns about food poverty, and in response, a quicker, simpler application process for Healthy Start food vouchers has now been established. The changes mean families no longer need a health professional, such as a midwife or health visitor, to complete and sign the application form.
Healthy Start vouchers worth up to £6.20 a week are available to pregnant women and parents of children aged under four who receive certain benefits such as income support or jobseeker's allowance. Anyone who is aged under 18 and pregnant is also eligible. The vouchers can be used to help buy basic healthy foods such as fresh fruit and vegetables, milk or infant formula. Free vitamins are also available for pregnant women and young children.
However, take up across Greater Manchester is low with an estimated £4 million in vouchers going unclaimed each year. It is hoped that the latest changes will help to boost the number of families signing up to the scheme. You can find out if you're eligible, and how to apply here: www.healthystart.nhs.uk .
Please note that the Healthy Start voucher scheme is separate to the £15 vouchers that are being given to some parents with children who would normally receive free school meals whilst schools are closed due to the coronavirus outbreak. For more information go to: www.gov.uk/government/publications/covid-19-free-school-meals-guidance/covid-19-freeschool-meals-guidance-for-schools.
NESTAC emotional support services
Please find attached details of support services run by NESTAC.
Metrolink
TfGM is increasing the frequency of Metrolink services as more people return to work. From Tuesday 26 May, services will increase from a 20 minute service to a 12 minute service on lines. Unfortunately they can't continue to offer free travel to NHS and care workers and this will end on Tuesday 26 May. They are also returning to normal thresholds on the NCTS scheme, meaning concessionary travel will start from 9.30am.
Greater Manchester Travel Survey
TfGM has also launched the Greater Manchester Travel Survey to help us understand people's attitudes and plans about travelling on public transport in the future. The survey runs until 1 June (8am), and we'd like to hear from as many people as possible. We'd be really grateful if you'd complete this online survey, and share it with your networks to encourage them to as well: www.tfgm.com/gmtravelsurvey
Take care,
Claire
From: Slade, Claire
Sent: 17 May 2020 19:15
Subject: Updates from the GMCA
Hello,
I'm sorry I haven't been in touch for a few weeks, as you can imagine things have been very hectic here. I hope you and your families and friends are well, and you are adjusting to these strange times.
Below are some updates I hope you will find useful. If you have anything you wish to flag up with the GMCA or the Mayor's Office about how your community is dealing with COVID-19, please do get in touch with me.
Government guidelines
We are still encouraging residents to stay at home as much as possible, and to still stay 2 metres apart from anyone outside your household when you do go outside. You may have seen our new campaign "Greater Manchester Joining Together While Staying Apart". Please help us share these messages further, for example, by sharing these tweets:
Community Hubs
They are still up and running and providing support to anyone who does not have any other way of getting food and medical supplies. This tweet contains the helplines for all 10 across Greater Manchester, and we would be grateful if you could help share this information: https://twitter.com/greatermcr/status/1260223958982389760
Keeping well at home
The Ageing Hub and University of Manchester have produced a booklet to help you keep well at home. While it is aimed at older people, the advice inside also applies to people of all ages. You can download it here: https://twitter.com/greatermcr/status/1258051896520171521
Yaran support and wellbeing services
Yaran are offering free session in mental health, life skills, painting, fitness and living well. Please see the attached poster for more information.
Financial support for community groups
Awards of up to £5000 are available from Forever Manchester and the National Lottery Community Fund. More info about how to apply is here:
https://www.greatermanchester-ca.gov.uk/news/greater-manchester-community-groups-urged-to-access-available-financial-support/
You could promote these grants by sharing this tweet: https://twitter.com/greatermcr/status/1255446252856266753
Greater Manchester Bereavement Service
Support is available to all those in Greater Manchester, bereaved or affected by a death. No one needs to feel alone as they deal with their grief, and advice can be offered for any practical issues that losing a loved one may bring.
Greater-Manchester-Bereavement-Service.org.uk or 0161 983 0902
You could promote this service by sharing this tweet: https://twitter.com/greatermcr/status/1255821597493075968
Greater Manchester Technology Fund
Many of you have told me that you are worried about young people who do not have the IT equipment or connectivity needed to continue their learning at home while schools and colleges remain closed. The GMCA has invested £150,000 in 567 kit bundles which are being made available to disadvantaged and digitally excluded pupils, working closely with schools and colleges to identify those in most need. A 'digital kit bundle' will include a laptop and the required tools to get online. Further information can be found by visiting: https://www.greatermanchester-ca.gov.uk/news/greatermanchester-technology-fund-launches-with-over-500-digital-kit-bundles-for-digitally-excluded-younglearners/ and you can share this information wider with this tweet: https://twitter.com/greatermcr/status/1255515282766004233
Answer Cancer Programme / Cancer Champions across Greater Manchester
This programme aims to improve cancer screening rates amongst under-represented groups in Greater Manchester. These groups include carers, disabled, ethnic minorities, LGBTQ, people with mental support needs and those on low incomes. There is no cost involved in signing up to be a Cancer Champion Organisation or Individual. It is a pledge to share information/activities with team colleagues, workers, service users, families and friends on cancer awareness messages and saving lives. Answer Cancer will support individuals/groups through training, information sessions and grants. If anyone would like to discuss the Answer Cancer initiative in more detail please contact Kirit Patel (Development Worker) on 07729 782 594 or find out more at www.answercancergm.org.uk and www.cancerchampionsgm.org.uk
High Sheriff Special Recognition Awards
Eamonn O'Neal has recently been appointed High Sherriff, having been a Deputy Lieutenant for six years. He has launched the High Sheriff Special Recognition Awards to celebrate the great acts of altruism, kindness and thoughtfulness being seen during the COVID-19 lockdown. Winners will be awarded a special certificate, delivered by post, then invited to a celebratory event, once the lockdown restrictions have been lifted. To nominate an individual or a group for a Special Recognition Award, email [email protected] for a nomination form. The same email address can be used to contact The High Sheriff for any requests to engage with community groups, good causes and charities.
We are also sharing positive stories of the things people are doing to help others during lockdown. You can find out more by searching #SpiritofGM, and please let me know if you have a story of your own to share.
Together in One Voice
On the 28th May the streets will be full of song when Greater Manchester joins together to create one of the largest community-led choirs in the world. The 30-minute virtual singsong will be live-steamed for audiences, and you can nominate your street to be filmed on the Together Manchester website or by emailing [email protected] . You can raise awareness and excitement of this by sharing this tweet:https://twitter.com/TogetherMCR/status/1260842425658101760
Claire Slade
Senior Engagement and Insight Manager
Communications and Engagement Team
Greater Manchester Combined Authority
Greater Manchester Fire and Rescue Service
Mayor of Greater Manchester's Office
Follow us on social media @GreaterMCR | @manchesterfire | @MayorofGM
Ivrit BeKef | Hebrew for Fun
Dear all,
I am delighted to present to you two great ways to celebrate Shavuot with UJIA next week…
Ivrit BeKef | Hebrew for Fun
In this week's fun Hebrew classes for ages 8-11 we put a special ice-cream flavoured twist on everything.
Each session will have a different topic please invite your family and friends to join us.
It's never too late to register for free if you haven't already, see www.ujia.org/ivrit.

Shavuot Central! – www.ujia.org/shavuot
Everything you and your family could possibly need:
the tastiest recipes
fun activities
a global Shavuot tour
and much more…!
All available for free at www.ujia.org/shavuot.
Wishing you and your communities a very happy Shavuot.
Shabbat shalom,
Jonathan
Jonathan Roland
Head of Community Engagement
UJIA
1 Torriano Mews, London NW5 2RZ
t 020 7424 6447
Together In One Voice
is an invitation to the whole of Greater Manchester to join together in song; to promote community spirit and to harness the power of music and the mental health benefits of singing.
On Thursday 28 May, 7.30pm, Greater Manchester will fill the streets with music as local residents and famous faces come 'Together in One Voice' for a mass sing-a-long from their doorsteps and windows.
Partners, Manchester City Council, Greater Manchester Combined Authority (GMCA), Manchester International Festival (MIF) and the Co-Op are looking to create one of the largest community choirs in the world – spanning 500 square miles of social distanced singing – for Together In One Voice.
The eventwill be livestreamed via YouTube as part of Manchester International Festival's online programme MIF LIVE. It will also be captured under social distancing guidelines with drones, street cameras and your own films – and edited together to produce a film set for national release on the evening of Sunday 31st May And we need YOU to get involved and feature in the final video.
How do I get involved?
1. On Thursday 28 May at 7.30pm visit togethermcr.com – take your tablet/phone and head to your window or doorstep to film yourself and members of your household taking part in the online singalong. This will last roughly 30 mins, leading into the regular 'clap for our carers' at 8pm. If you are part of a group or collective, get creative and think about how you can all be identified in the video you send in e.g. wearing your promotional t-shirt, waving a flag, showing the products you make etc. You'll be able to upload your filmed footage from 28 May at togethermcr.com and you will be asked to include the name of your group or how you want to be named.
2. Your footage, along with other footage captured on the night by our film crews under social distancing guidelines with drones and street cameras will be edited together to produce a full show for national release on the evening of Sunday 31 May.
3. In the lead up to the event you can also join one of our online community choir sessions, commencing 15 May at 8pm, led by Choir Director Dan McDwyer. Details and links available at www.togethermcr.com and absolutely no previous singing experience is necessary.

4. You can also help us to spread the word – don't forget to tag @togethermcr and use the hashtag #togetherinonevoice when posting on social media
Remember, no singing experience is required, just a sense of community spirit. If you have any further questions, please visit: togethermcr.com
On Tuesday 26 May, we will release the names of the artists and the tracks that we will join together to sing on Thursday 28 May. Tom Walker's 'Leave a Light On' will feature community groups – so that's the one you need to record and submit in order to be showcased in the full show that will be released on Sunday 31 May
Kind Regards
The Together in One Voice Team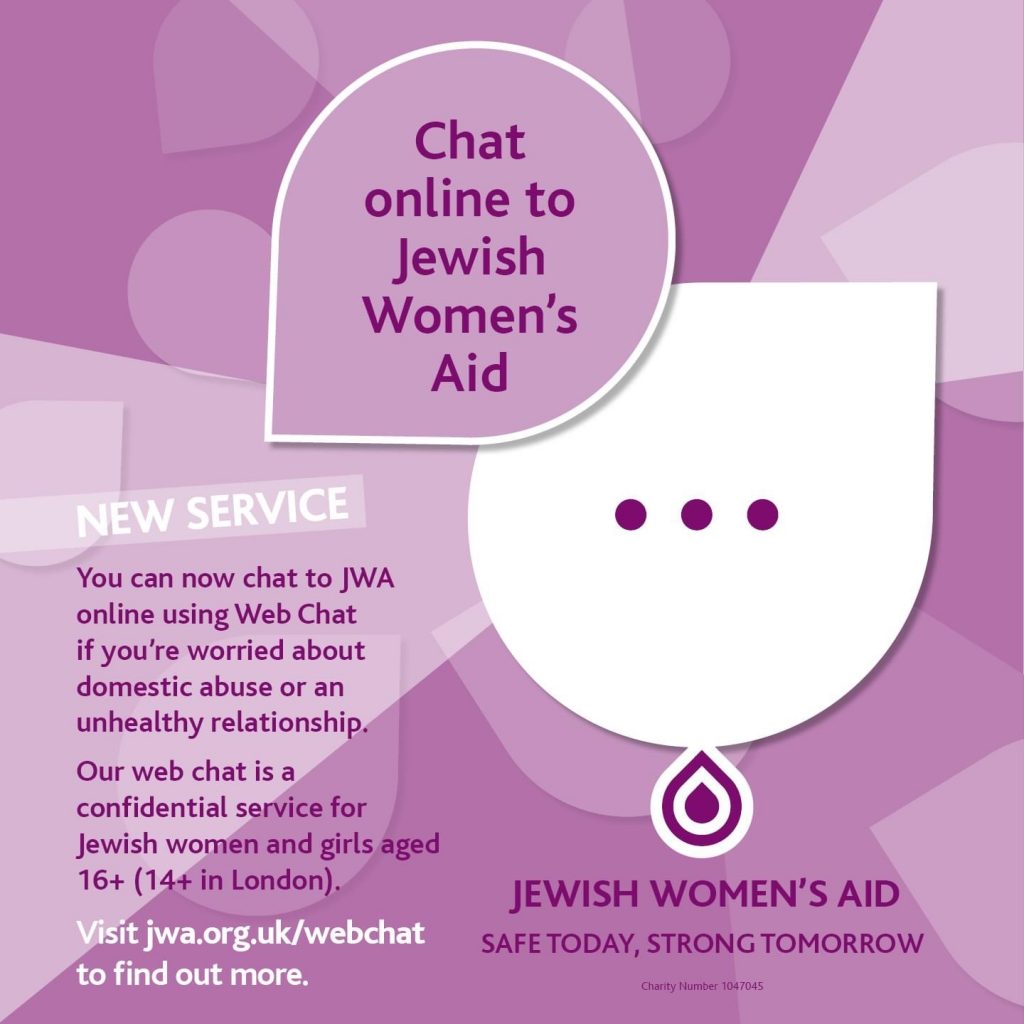 📣 WEB CHAT IS HERE!! Jewish Women's Aid is proud to offer this new and vital service to women and girls in our community.
Lockdown can make it harder to phone us for support with domestic abuse, so now you can chat to us online at jwa.org.uk from your mobile, tablet or computer 📱 💻.
Our CEO, Naomi Dickson, said, "The launch of our web chat service couldn't have come at a more relevant time. We know it can be difficult for women to contact us during the lockdown if they are at home with the perpetrator, but web chat can be a more discreet way of being in touch if they need us. We were developing this service before the coronavirus crisis in light of its success in the wider domestic abuse sector, but we recognise that women may need online messaging now even more than before."
SHARE: You can support women who might need this service by sharing this post 💜
For more information, visit: jwa.org.uk/news-web-chat—
JAMH Events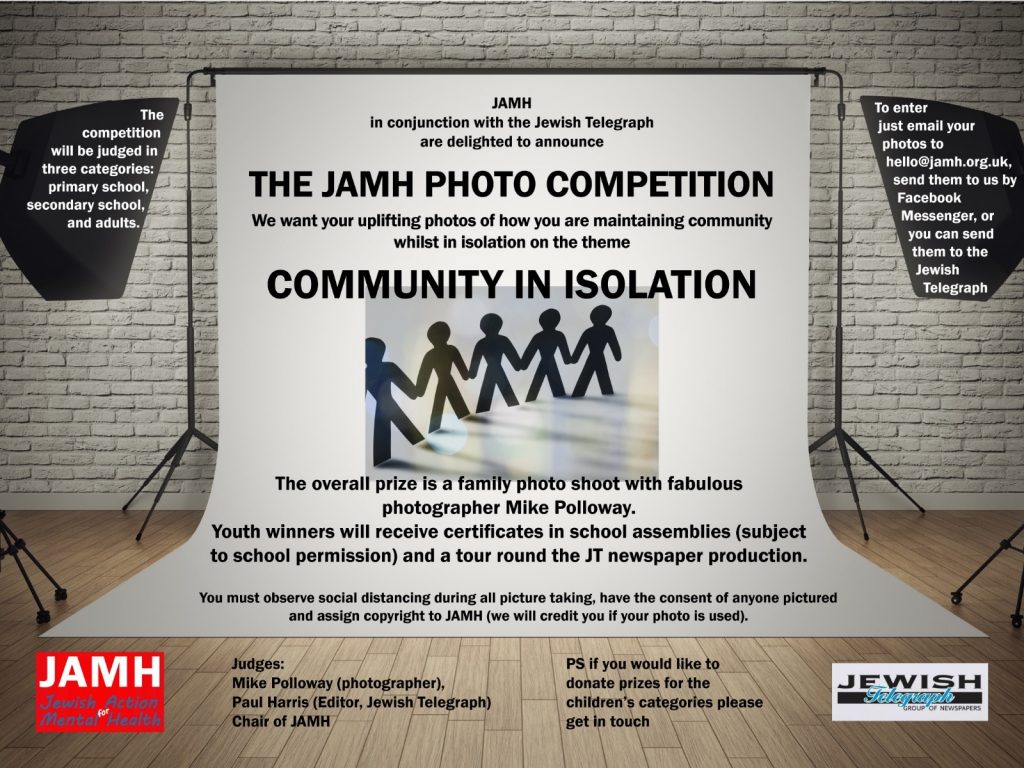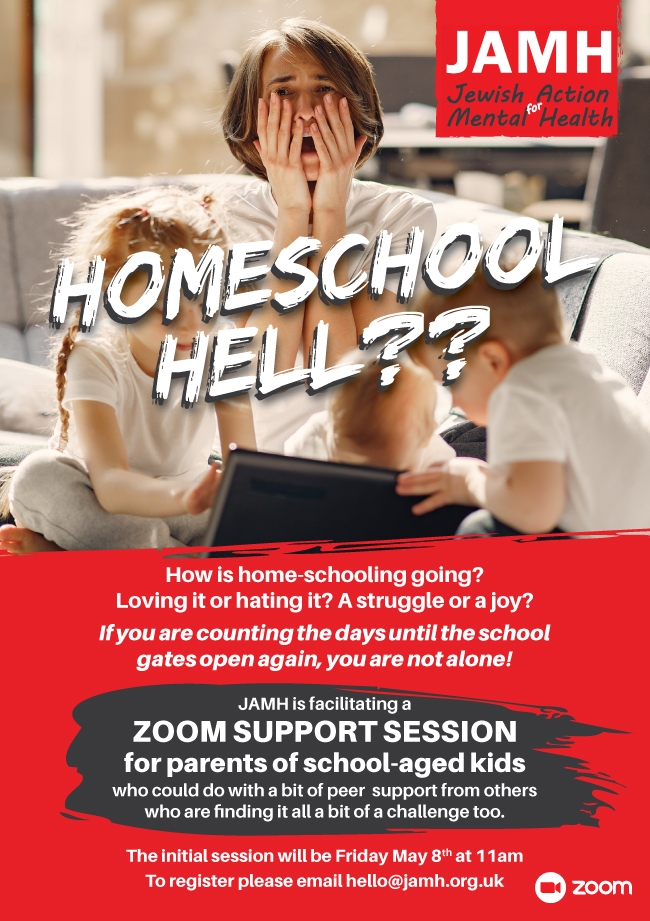 '45 Aid Memorial Candle Lighting
'45 Aid friends and family – we need your help!😀
We will be producing a film of the '45 Aid family lighting memorial candles, which will be shown on 10th May 2020 on our YouTube channel.
We would like to include children and grandchildren of The Boys – of all ages – lighting candles.
If you wish to participate, please take a short video (1 minute max) of any of your children lighting any kind of candle.
Send us the video clip by Monday 4th May at the latest, so that we can add it into our film.
See below instructions for participating:Guidance for self-filming
1. Angle horizontal: place camera/smartphone horizontally. We suggest setting it in a stable place such as on a pile of books etc instead of held in your hand.
2. Lighting: please make sure the room is well lit – avoid bright light in the background such as a window.
3. Introduction: start your filming before the children light matches to see the whole process of lighting the candle.
4. Duration: no speaking necessary – please light candle and then stand quietly for up to 1 minute.
5. Upload: send via email to: [email protected]. If it is a large file (larger than 10MB), please use WeTransfer https://wetransfer.com/ to upload it to: [email protected]
Deadline for submission: Monday 4th May. We look forward to receiving lots of clips!
Jewish Film Festival
I am writing to introduce myself as the new Partnerships Manager at UK Jewish Film.
One of my most important first tasks is to try to engage with Jewish communities outside London and I thought it might be worth dropping you a line.
I am sure some of the members of the Northern Jewish Cricket League will have attended the UK Jewish Film Festival in Manchester or Leeds, but I am keen to make sure that as many people as possible know how we've responded to the present crisis.

One of the (few) positive aspects of lockdown is that we've been able to put a great many films with Jewish content online, which means people don't have to wait for the festival in November to see Jewish films and can access material from the safety of their own homes.
Many films can be watched for free, others can be rented, streamed or purchased at very low rates. New films arrive each week – including brand new releases – and over the next few weeks we will be exclusively streaming must-see Israeli TV series.
https://ukjewishfilm.org/ondemand/
I don't know if you have a network that you could pass information on to, but I would love people in the North who might not know about UK Jewish Film to find out how easy it is to access Jewish-themed film and TV during lockdown – and beyond. And if there's a good response from cricketers, we may even try to get Wondrous Oblivion up online! All requests considered!
I look forward to hearing from you
Fondest regards
Benjamin Till
UK Jewish Film Partnerships Manager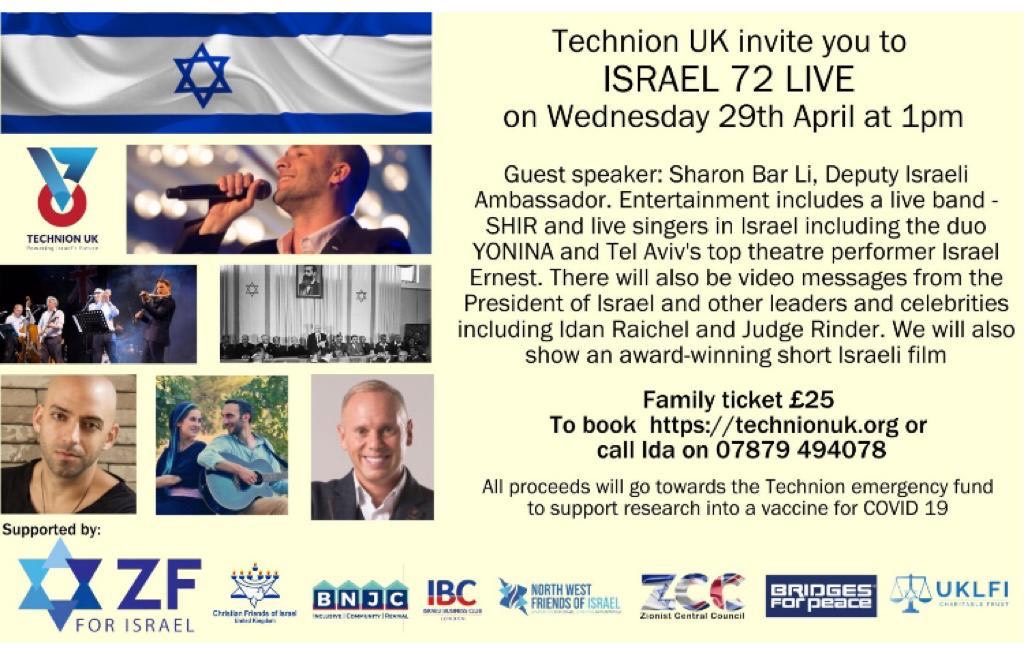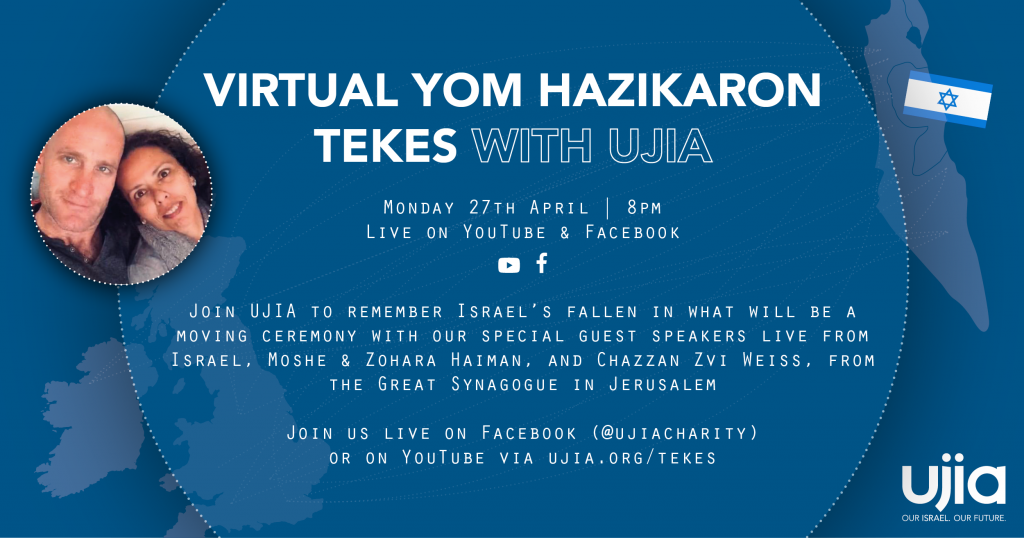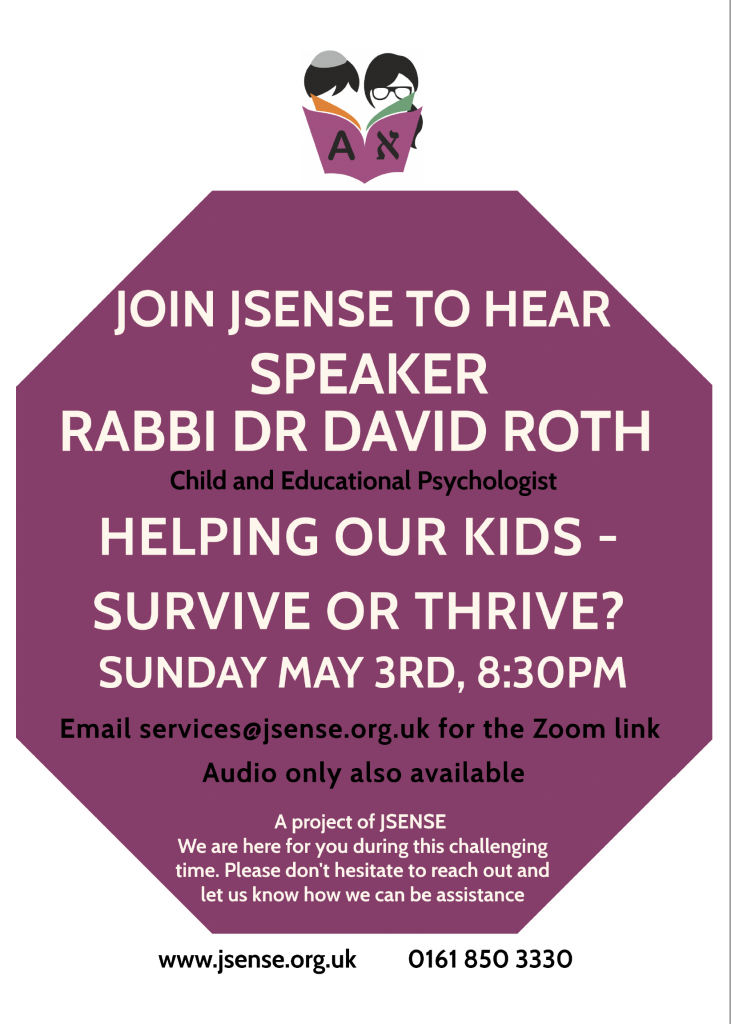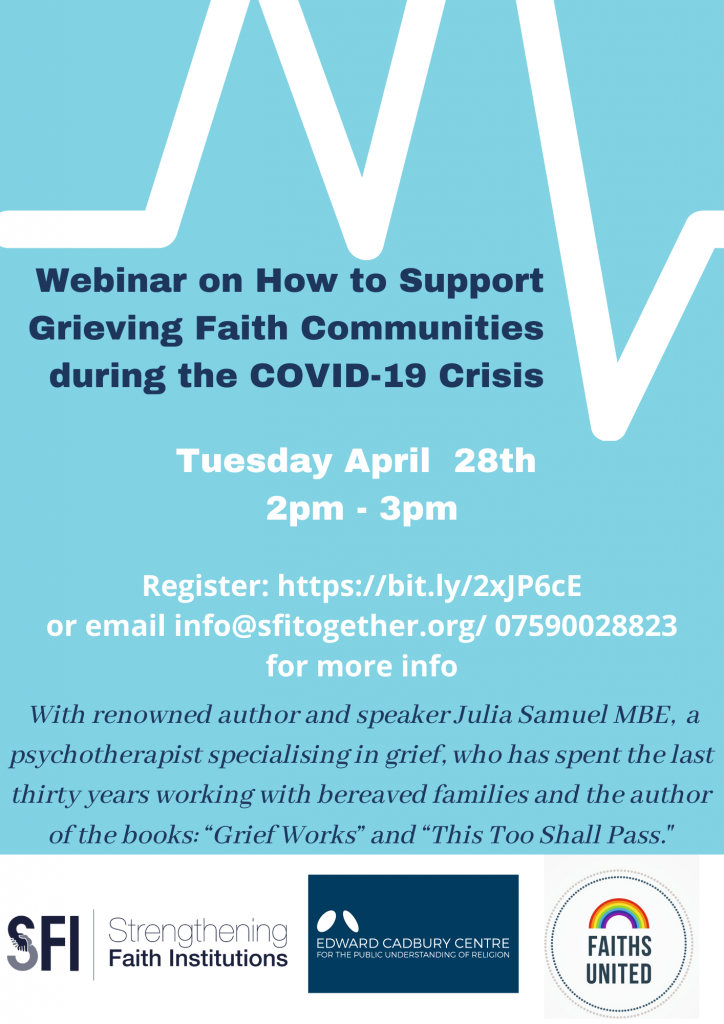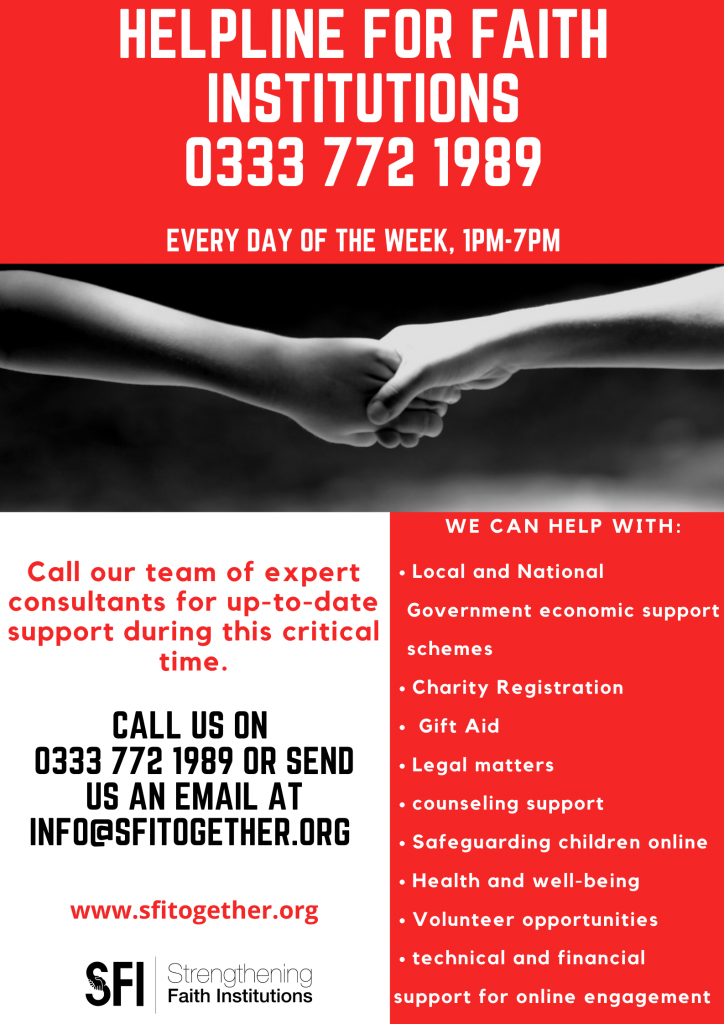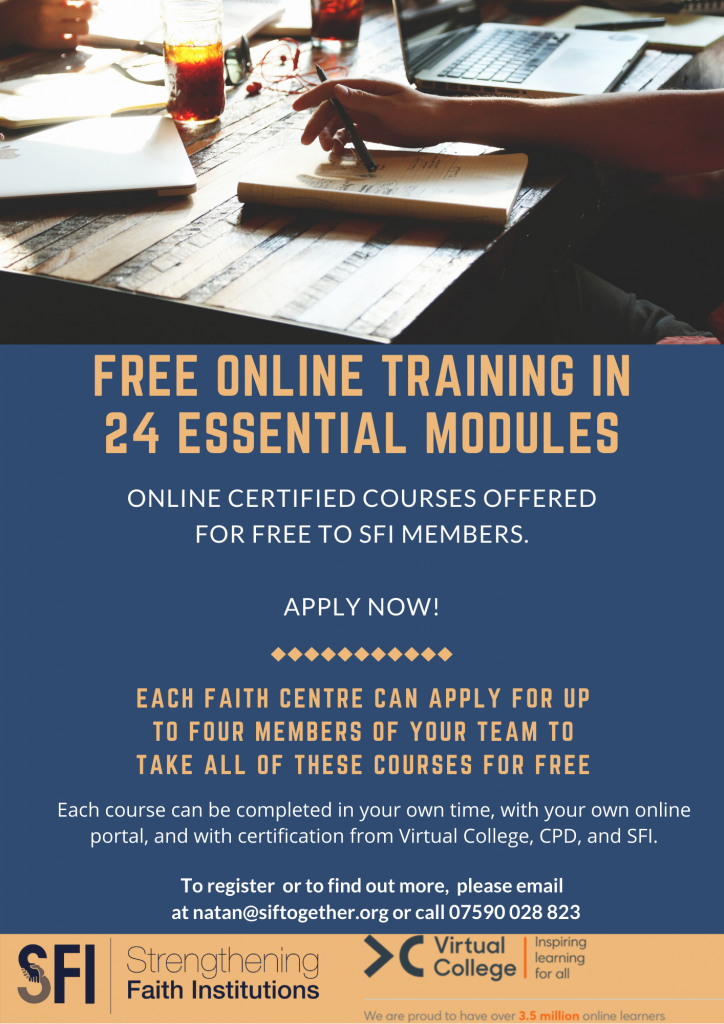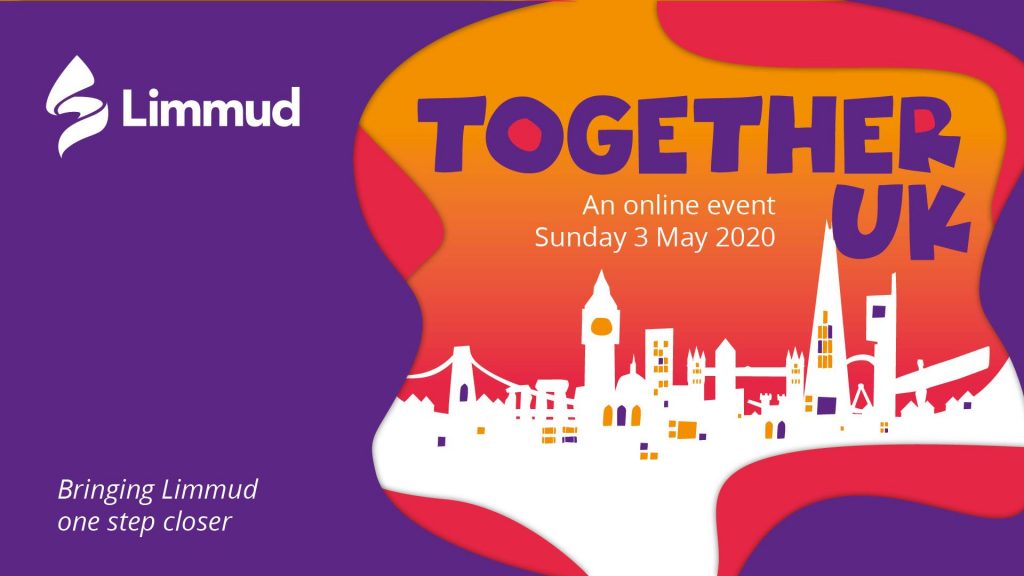 We are delighted to launch Limmud Together UK, the Limmud you know and love but from the comforts of your own home.

It'll be virtually the same experience of a day Limmud, with outstanding presenters, discussions and learning.Jewish learning and community is important to Limmud and we are using this opportunity to continue to bring people together even if we are physically distant.
Being at home doesn't mean you can't get that same Limmud experience.

BOOK NOW AT: https://events.limmud.org/limmud-together-uk/apply/Limmud Together UK will be on Sunday 3rd May in our homes and is one of a number of upcoming global Limmud events, curating accessible learning during the Coronavirus pandemic including South Africa on the 17th May and North America on the 24th May.

Limmud Together UK will cost just £10, free for anyone who has volunteered for a Limmud team in the last year and with a concessionary rate of £1 for those who have been financially impacted by Coronavirus. It's a new way of being together even though we're apart, and we hope you'll join us.
Community Update
Please see the latest communication for our community from organisations across the spectrum, our Local Authorities, GM Combined Authority and Health Services.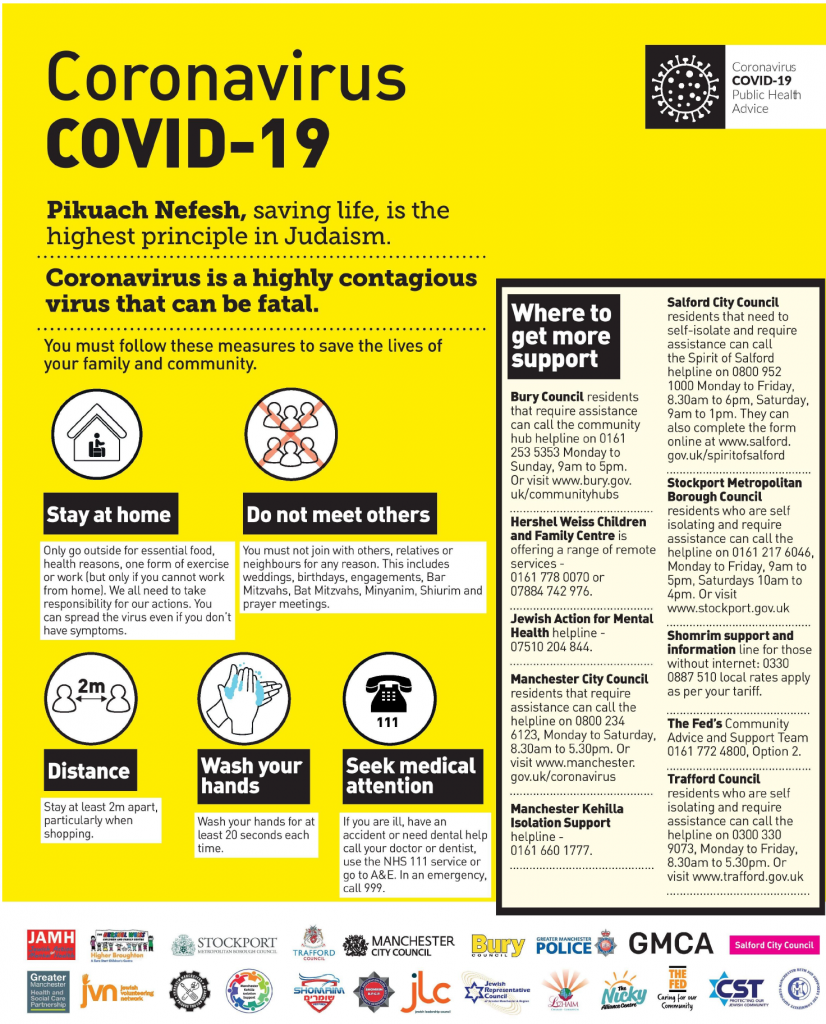 Paperweight
COVID-19
Update: Tuesday 14 April
Benefit changes
Changes to working tax credit and to child benefit, and the recovery of benefit overpayments to be paused
Read more
Guidance on unpaid care
The Government has updated their guidance for anyone who cares, unpaid, for a friend or family member who cannot cope without their support.
Read more
Domestic abuse
Support if you are affected by domestic abuse or sexual violence
Read more

We have a special COVID-19 section of relevant guidance at www.paperweight.org.uk/covid-19.
If you know of anyone who could benefit from our free support, please do ask them to call our Emergency Helpline 020 8455 4996.
Hi there,
I am getting in touch to tell you about the relaunch of #EveryMindMatters campaign to encourage adults to take steps to look after their mental health during this difficult time, using the Every Mind Matters website and its self-care resources.
There are some new assets including the Duke and Duchess Cambridge voice over video (attached).
All other resources can be found here: https://coronavirusresources.phe.gov.uk/
Suggested social media posts:
Taking care of your mind, as well as your body, is really important whilst staying at home. Visit #EveryMindMatters for practical tips on improving your wellbeing whilst staying at home 👉 http://bit.ly/EMMNorth#StayHomeSaveLives #coronavirus
It's vital to look after your mental health and wellbeing during these times of uncertainty.
#EveryMindMatters has some useful tips to help improve your mental health and wellbeing if you are worried or anxious about the coronavirus outbreak. 👉 http://bit.ly/EMMNorth #StayHomeSaveLives #coronavirus
Please do take a look and we would really appreciate your support in sharing this message.
Do tag in @HMGNorth to any twitter posts.
Many thanks, Alice
Alice Pelliccia-BourkeSenior Campaigns and Stakeholder Manager North of England
GCS Prime Minister's Office and Cabinet Office CommunicationsT: 07710 064772E: alice.pelliccia-bourke@cabinetoffice.gov.uk
Follow us on Twitter: @HMGNorth My working days are Mondays, Tuesdays and Fridays
JLC and Work Avenue launch fund for people affected by Covid-19
Guidance from CST for Livestreaming
Please find attached guidance from the CST, explaining how to use live streaming services such as Zoom in as safe and secure a manner as possible.

CST has issued the guidance because we know that many organisations and communities are using live streaming as a crucial way of working and keeping in touch during the Covid-19 crisis. CST fully supports and applauds such efforts to maintain communal activities and we regret adding online security considerations to your already complicated situation, but a small number of antisemitic and other unwanted disruptions have occurred and we expect they may well increase in the coming weeks.

We hope that you find the guidance useful and ask that you please report any disruptions to CST be they antisemitic, criminal, or nuisance. Our 24/7 security response (0800 032 3263) remains fully operational, as do many of CST's other functions.

Regards
Laurie Burnley-Myers
https://jewishmanchester.org/wp-content/uploads/2020/04/Guidance-for-secure-livestreaming.pdf
Administrator
Dear Members
For those who are classified as Clinically extremely vulnerable to the Corona Virus there is government support, processed through the Local Authorities, including food parcels for those who need them.
The food parcels will NOT be kosher for Pesach but the Council will make arrangements to collect any which are delivered at this time.
https://www.gov.uk/coronavirus-extremely-vulnerable
To access this support you register on the Government website through the link below. It is possible to register for someone else (a relative/friend) if they are unable to.
There are full instructions on the site.
https://www.gov.uk/coronavirus-extremely-vulnerable

If you have not received notification that you are an extremely vulnerable person and you believe that you should be classified as such, you should contact your GP.
https://www.gov.uk/coronavirus-extremely-vulnerable
Michael Rubinstein FCA

Secretary Jewish Representative Council of Greater Manchester and Region
Chair of Anti-Semitism, Racism and Human Rights Committee
Government Advice for the Vulnerable
https://www.gov.uk/coronavirus-extremely-vulnerable
Volunteering in Bury
Hi Faith Forum members,
If you know of anyone that might be interested in this opportunity below, please do share it with them.
Help our Bury Community in COVID Crisis by Volunteering
VCFA is working with Bury Council and Bury CCG to support local communities. By becoming a local volunteer, you can help to support those who need it most.
If you're healthy and at low-risk, and want to help you can Volunteer for Bury, by assisting in carrying out non-personal care tasks to assist people with care and support needs. Such tasks might include
· Shopping
· Collecting prescriptions
· Preparing a meal
· Assistance with laundry
· Befriending/Checking/ reassurance by phone call
· Sitting with someone for a while (if they are not self-isolating)
Having a current DBS allows a wider range of volunteering opportunities.
To sign up click here – https://www.buryvcfa.org.uk/volunteering/ or call BVCFA on 0161 518 5550
If you need help please call 0161 253 5353
Please forward this appeal to your colleagues and networks #workingtogether #forBury
Supporting our vulnerable residents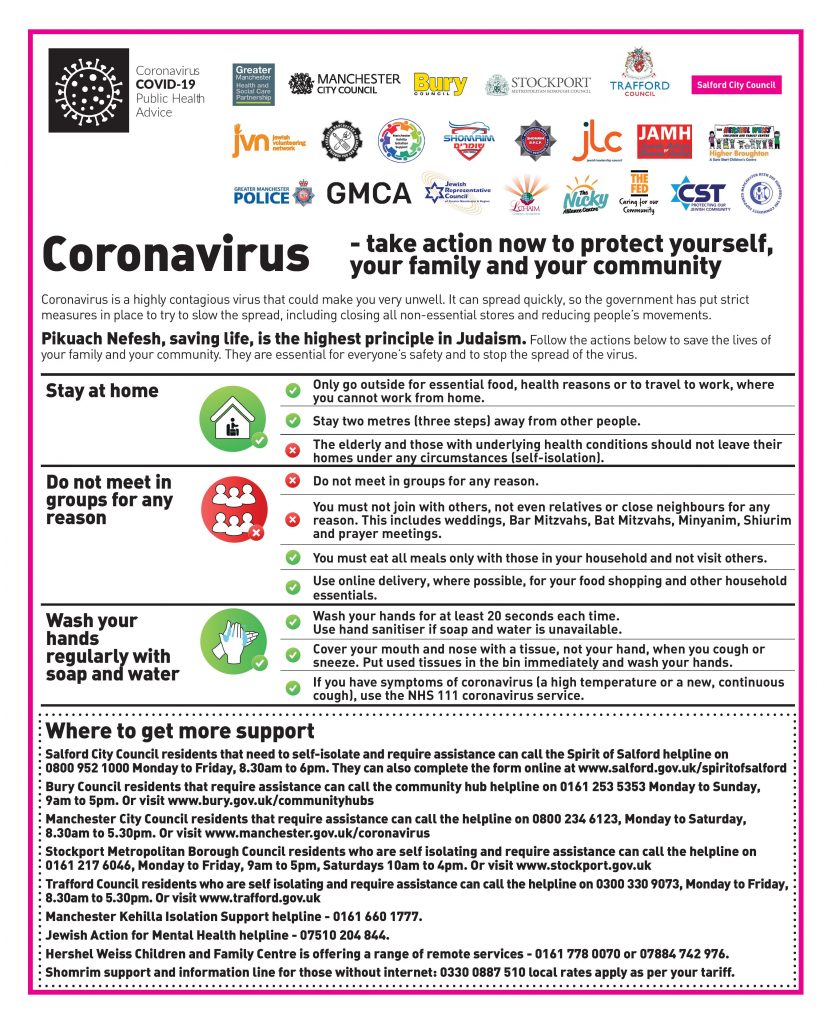 We wanted to share with you what we're doing for our vulnerable residents. Yesterday we launched the Spirit of Salford Helpline which is 0800 952 1000, along with an online form at www.salford.gov.uk/spiritofsalford. We've also posted out a leaflet to around 4000 residents who are aged 75+. Please circulate this amongst your networks and promote the helpline and web link where possible. We're also promoting this in the local press, on social media and through partner networks.
Thank you for your continued commitment and support
Jewish Women's Aid and Coronavirus
https://www.jwa.org.uk/coronavirus
Update from VSCE (Voluntary, Community and Social Enterprise )
This statement is being issued jointly by Greater Manchester Combined Authority and the Greater Manchester Health & Social Care Partnership and covers work with the Voluntary, Community and Social Enterprise (VCSE) sector that is funded by both organisations. It is intended to complement statements of support to the VCSE sector already issued by districts in Greater Manchester.
We want to start by offering our thanks for all the extremely valuable work the sector is doing to help people across Greater Manchester support each other during these difficult times. We know that the skill, energy and compassion of the VCSE sector will be vital in keeping our communities strong. But we also recognise the huge pressure that this is putting on staff, volunteers & budgets.
The COVID-19 outbreak is an emergency that will have a profound impact on the VCSE sector. We know that the sector will face financial challenges, difficulties in rapidly shifting to new ways of working, and will do all this against the backdrop of a spike in demand for support and a potential reduction in staffing levels as a result of the outbreak.
We also know that VSCE organisations of all different shapes and sizes play a core role in supporting the health and wellbeing of people across Greater Manchester. But we also recognise you can't do this alone, and that there will be times when staff and volunteers will not be available.
We want to reassure you that we stand with you during this unprecedented period and we will work in partnership with you. We want to do everything we can to enable the VSCE sector to focus on the vital work you do supporting some of the most vulnerable people in our communities. The new Greater Manchester VCSE Commissioning Framework and Delivery Plan, agreed between the Joint Commissioning Board and VCSE Devolution Reference Group, will guide our approach.
To support you in the coming months, we will:
Do everything we can to support your financial position – for example through more regular or upfront payment of existing grants where we can and 'rolling over' recurrent grants for next year without the need for formal applications;
Continue to lobby Government about the importance of the sector and the support you need to enable you to undertake vital work with all our communities;
Be flexible on reporting and monitoring for the foreseeable future, so that you can free up time to focus on your frontline support to communities;
Give you the freedom you need to use your funding where you think it will have the most impact wherever we can and not tie you to previously agreed delivery targets or outcomes. Where we can't do this (because it is outside our control) we will tell you, and work with you to agree a sensible way forward;
Maintain an open, honest and regular dialogue about the challenges you're facing and how we can help;
Promote the work you're doing to the wider public through our core channels to garner additional support and resources.
In return we ask that you:
Use your networks, your relationship with your communities and your experience to provide us with advice about what needs to happen;
Engage with your locality and Greater Manchester-wide coordination activity where you can, and tell us quickly if you are finding this to be too much of a burden;
Keep us informed about any changes you make to your activity;
Understand we are also facing severe pressures, with many similar demands on our finances and our time;
Bear with us and understand that we will get things wrong in these unprecedented times, but we will act as quickly as we can to rectify any mistakes;
We are also committed to doing what we can to provide practical support to local areas. For example, our VolunteerGM website provides a clear, central place for Greater Manchester residents to go to find out how they can contact local organisations and register an interest to volunteer in their community.
We want to finish by offering our thanks again to everyone across the sector for everything you are doing. We will do whatever we can to support you.
New advice to support mental health during coronavirus outbreak
https://www.gov.uk/government/news/new-advice-to-support-mental-health-during-coronavirus-outbreak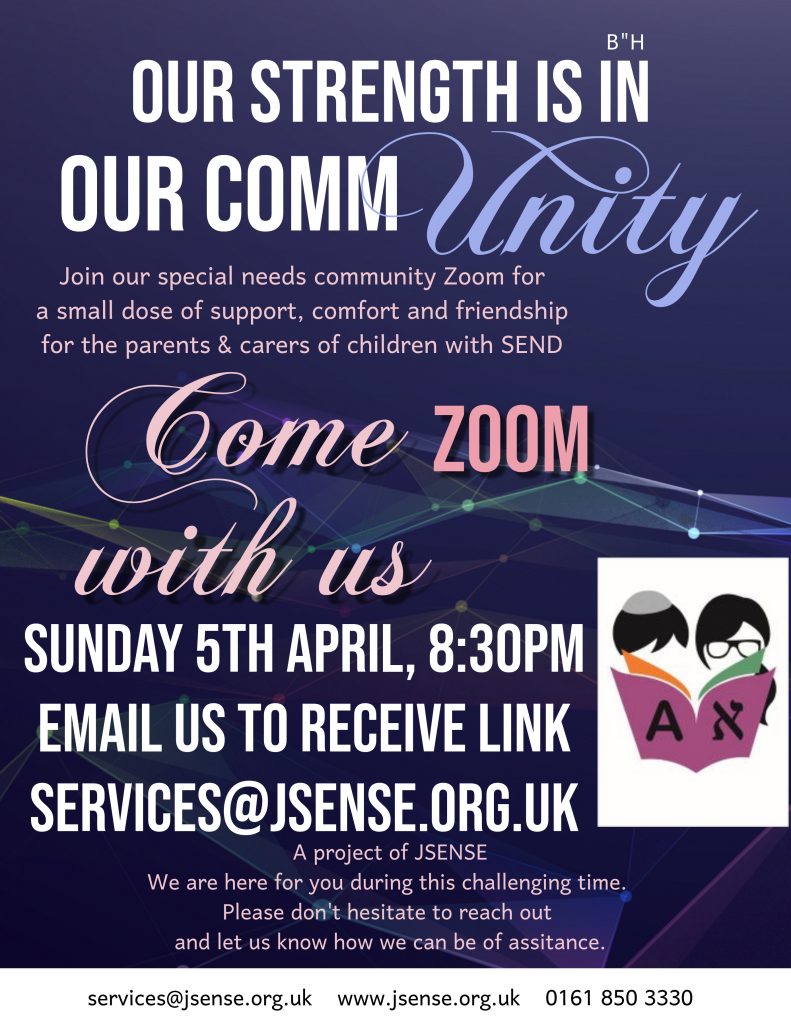 JAMH
JAMH ( Jewish Action for Mental Health) now has a helpline; Tel 07510 204 844.
We have access to trained therapists/ counsellors willing to offer phone support to people suffering anxiety and depression on a voluntary basis.
For your information most of them are from orthodox community.
The Friendship Circle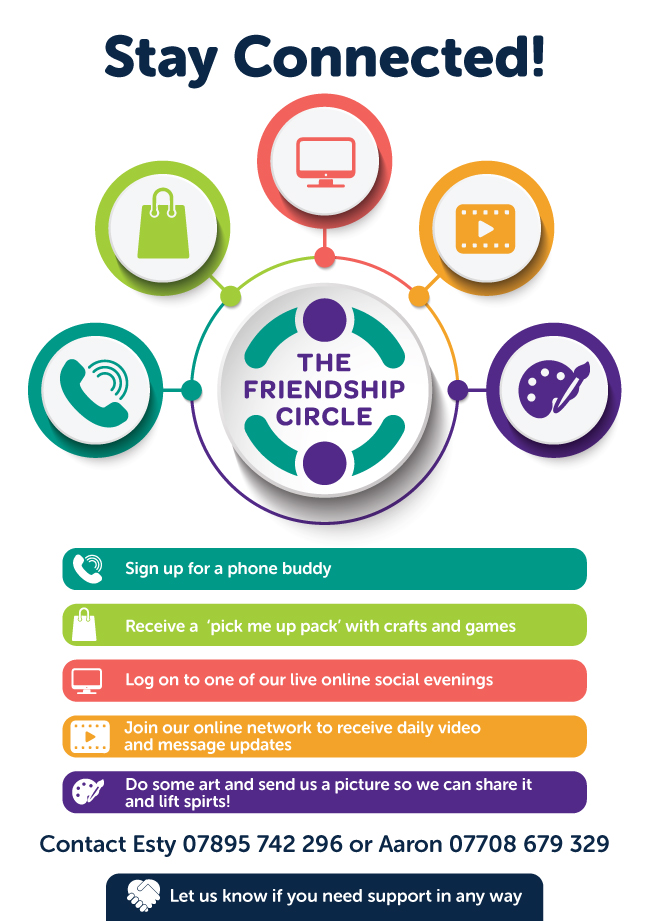 Enriching lives for people with disabilities
All staff working from home. Phone Buddy system. Online social groups and activities. Video message sharing, Pick me up packs, practical support for our members. Keeping connected.
Contact Esty Bruck 07895742296
Jewish Leadership Council
We have compiled a list of communal and non-communal helplines that can be viewed here.
Please will you share widely as I feel it could be helpful.
Zehava Emunah
Dear Friend
On behalf of Zehava Emunah I am sending you this email, thinking of you and hoping you and your family are keeping safe and well.
You are probably receiving many emails, WhatsApp messages, texts etc during this difficult and challenging crisis.
Having perused many of these I feel it is appropriate to forward the following to yourselves.
Please find attached 2 posters of local practical assistance and 1 poster of addressing aspects of spirituality.
In addition one can access a very helpful guide:
https://www.nhs.uk/oneyou/every-mind-matters/coronavirus-covid-19-staying-at-home-tips/
May Hashem hear and answer all of our Tephillot and may we, our families and all Klal Yisrael be strong and healthy.
Warmest wishes
Estelle
Estelle Gillis
(On behalf of Zehava Emunah)
Shield House Harmony Way London NW4 2BZ T : 0203 818 8502 www.emunah.org.uk Registered Charity No 215398
http://www.facebook.com/BritishEmunah to visit the Emunah page on Facebook – and please 'like us'!
http://stores.ebay.co.uk/Emunah-Charity-Shop
to visit our 'Emunah on Ebay' page!
https://twitter.com/#!/BritishEmunah
to follow Emunah on Twitter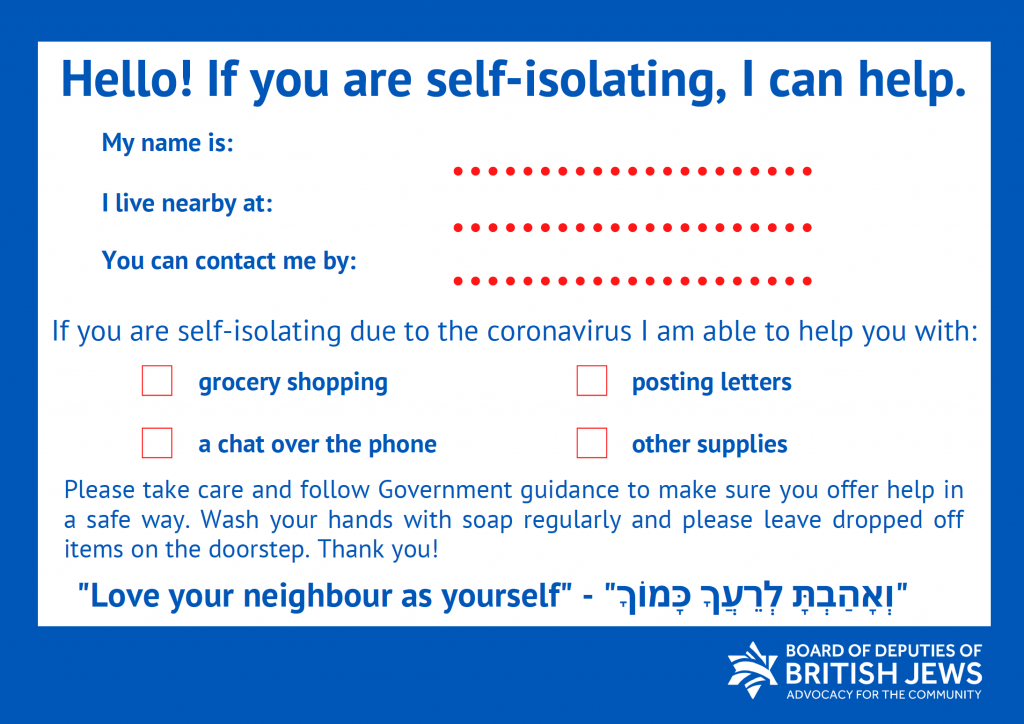 LETS SUPPORT COMMUNITIES TOGETHER
This project is being co- ordinated by the Jewish Representative Council (JRC), is to ensure that all organisations, Shuls, Community groups etc. as well as individuals are contacted to identify, what action or projects they are undertaking during the period of the Corona virus pandemic to support their community. In this period, we all need to support our community and the wider community.
We know that some areas of this community are more isolated then others and collating this information will help in targeting support to those who need it most.
The JRC have developed a team that are leading on Community issues, please respond to the office to the questions below on [email protected] so the JRC can assist with the co- ordination of support at this time.
· What is your idea for a project and what support do you need to action it?
· Do you already have a group of volunteers?
· Do you have an existing project that could be used for the benefit of the community?
· Do you need the project promoted?
· Do you require access to funding opportunities?
· How are you promoting the project at present?
· Do you require volunteers?
IMPORTANT
While we all appreciate the extra efforts, everyone is prepared to make,
WE
Have to acknowledge and comply with the Government guidelines that have recently been implemented, and NHS guidelines to control the spread of the Coronavirus (Covid-19 ).
Contact : The JRC Office – 0161 720 8721
Sent on behalf of Lynne Ridsdale, Deputy Chief Executive Bury Council
Dear all
As you are aware the community hubs are now live. We are already receiving calls from vulnerable people and providing proactive support through the VCSE sector. At this stage the Hubs are focused on identifying people in need of help and determining the community capacity available to support. We expect that the role will grow imminently to include food distribution but arrangements are still being determined nationally – more information to follow.
Please note that we have decided to advertise a single number (0161 253 5353) for the Hubs and not be specific about physical locations. This is to make it straight forward for the public to access support and avoid confusion about which Hubs cover particular towns. Be assured that Hubs will be operating locally to ensure adequate coverage but we will stay silent on these details for the public to avoid confusion. Your local Hub Lead will, however, be in touch with you this week to introduce themselves and confirm their coverage arrangements. We welcome support and engagement from Ward Councillors with this work.
In support of the work of councillors and all wider volunteers we have drafted some principles about the basis of volunteering at this time. The advice is attached and seeks to harness as much local capacity is practicable whilst keeping arrangements safe and controlling infection. (Please note that this will be formatted and re-circulated asap).
We are also mindful of the emotional health and wellbeing of our staff and all councillors at this time. The Council has therefore implemented an Employee Assistance Programme, details attached, which provides strictly confidential and 24/7 access to telephone and web based support for practical and welfare support. The provision applies to all Councillors too and we encourage you to access this support if you require any help in managing the additional pressure and emotional impact of this difficult time. Details are attached.
Finally, we have now received a number of questions from councillors which will be answered and a rhythm of FAQs will be established.
Thank you for your support
Communications Team
JVN Bulletin
Hi,
I hope you are all keeping well.
Just an email to let you know that JVN are responding to requests for volunteering where possible. We have been asking for charities to let us know of their needs and placing it on our emergency page on our website:
https://www.jvn.org.uk/emergency
In order to get people volunteering as quickly as possible, we have also set up a Facebook group for anyone to access to post their volunteering requests.
https://www.facebook.com/groups/211022106874422/
Please could you promote this group on the JRC channels?
Finally, just a reminder that JVN are a connection service and are working to link volunteers with organisations during this crisis. Those organisations looking for help are responsible for the volunteers' well-being and we advise for them to stay up to date with government advice in order to protect them to the best of their ability. A useful link here:
https://www.gov.uk/government/publications/safeguarding-factsheet-community-volunteers-during-covid-19-outbreak
Many thanks and Stay well.
Rebecca.
Rebecca Mickler
Volunteer Coordinator Manchester
Memo to Greater Manchester Faith Community Leaders
Dear friends,
Yasmin Bukhari (of the Prevention and Protection Directorate, Greater Manchester Fire and Rescue Service) asks that you forward this link to whomever can spread this message as effectively as possible.
There have been a number of garden waste fires during the lockdown which has raised some concerns for the fire service. The link offers some useful advice on how to dispose of waste during this period.
https://www.manchesterfire.gov.uk/news/greater-manchester-residents-urged-to-store-waste-safely-following-closure-of-recycling-centres/
If you need more information, Yasmin can be emailed here: [email protected]
Warm regards,
Steve Williams,
Secretary,
Greater Manchester Faith Community Leaders
07757 411 377