Message for the Community re Tashlich
Salford City Council has thanked Jewish leaders for their support in protecting the community during the coming High Holy Days.
Following discussions with community leaders a joint decision has been made to close Clowes Park to the traditional Tashlich ritual from 12 noon on Sunday September 20 for the remainder of the day. Police neighbourhood team patrols will be on duty in and around the community to provide reassurance and advice throughout the High Holy days.
Deputy City Mayor Councillor John Merry said the decision was not taken lightly but was the right thing to do due to the recent rise in COVID-19 cases in the city. The decision is supported by Greater Manchester Police, Jewish rabbis and community leaders and local councillors.
"We understand the importance of Tashlich to the community but, after lengthy discussions, community leaders agreed that the risk of spreading the virus was just too high. Public health must take priority in these difficult times," he said.
"Greater Manchester is already under extra restrictions because of increasing rates of infection and no-one wants to see those tightened or more people fall ill. I hope people can find alternative, safe ways to mark the occasion and I wish everyone a happy, healthy and safe New Year."
Jewish Support and Engagement Programme Lead, Superintendent Rachael Harrison of Greater Manchester Police offered her best wishes to the community and added: "It is imperative for GMP and partners to take proactive measures to prevent large gatherings, which could impact on the health of our local communities.
"I would like to assure you that the priority to protect public health has been applied equally across all faith groups, during the different periods of celebration within our communities, due to the impact of COVID-19.
"Please spend this time celebrating in line with the latest guidance, attending Synagogues safely and following government guidelines, to help keep loved ones safe."
Thanks,
Sam
Samantha Mansfield
Public Health Strategic Manager
Salford City Council
Unity House
Civic Centre
Chorley Road
Swinton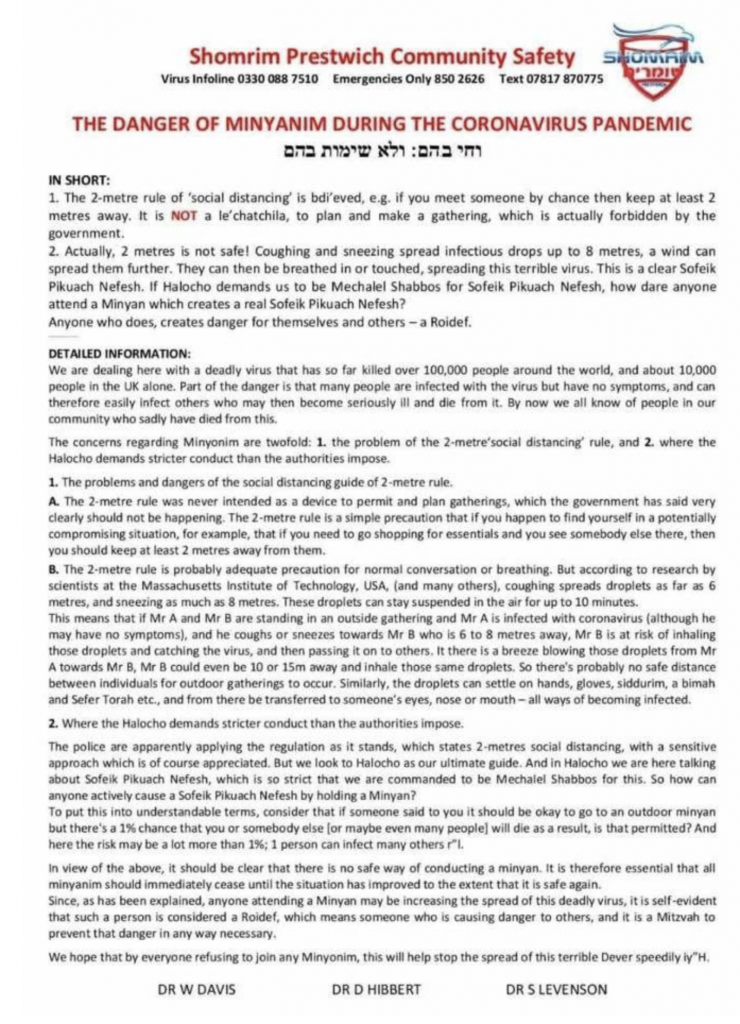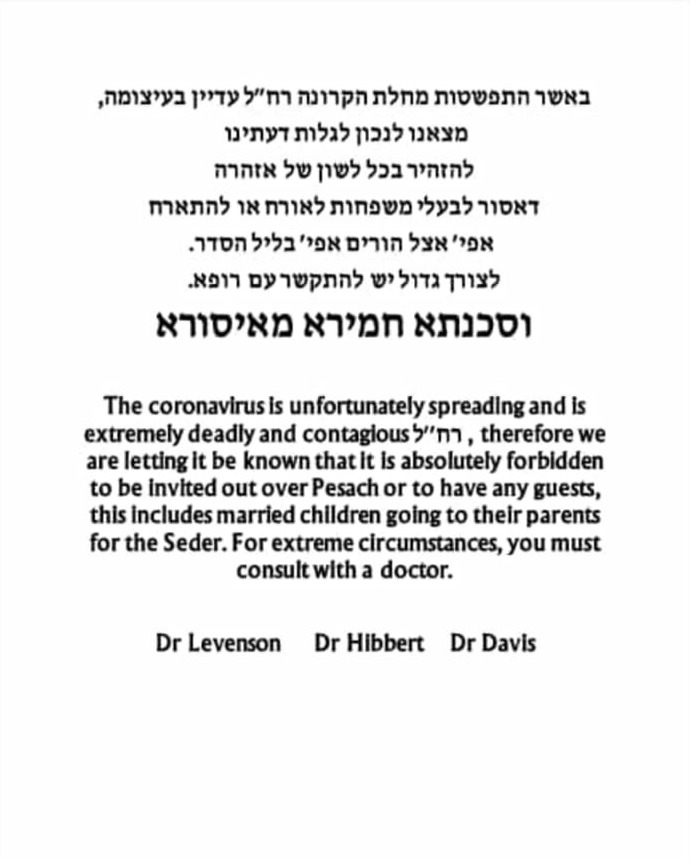 Fire Safety for Pesach
Good morning,
I hope you and your families are well.
I wanted to send you a quick email to with you a very happy Pesach.
Greater Manchester Fire and Rescue Service have shared some safety advice to help keep people safe during Pesach celebrations. You can find it here: https://www.manchesterfire.gov.uk/news/fire-service-asks-jewish-communities-to-celebrate-pesach-safely/
Please would you be able to help us by sharing this with your communities and reinforcing the stay at home and fire safety messages during the celebrations? I've attached some suggested social media posts and an image for you to share before the celebrations begin.
Many thanks and I wish you a safe and very happy Pesach.
Ellen Petty
Senior Communications & Engagement Officer
Greater Manchester Combined Authority
07734 275707
Pesach guidance for the Kehilla
https://jewishmanchester.org/wp-content/uploads/2020/04/Guidance.pdf
Death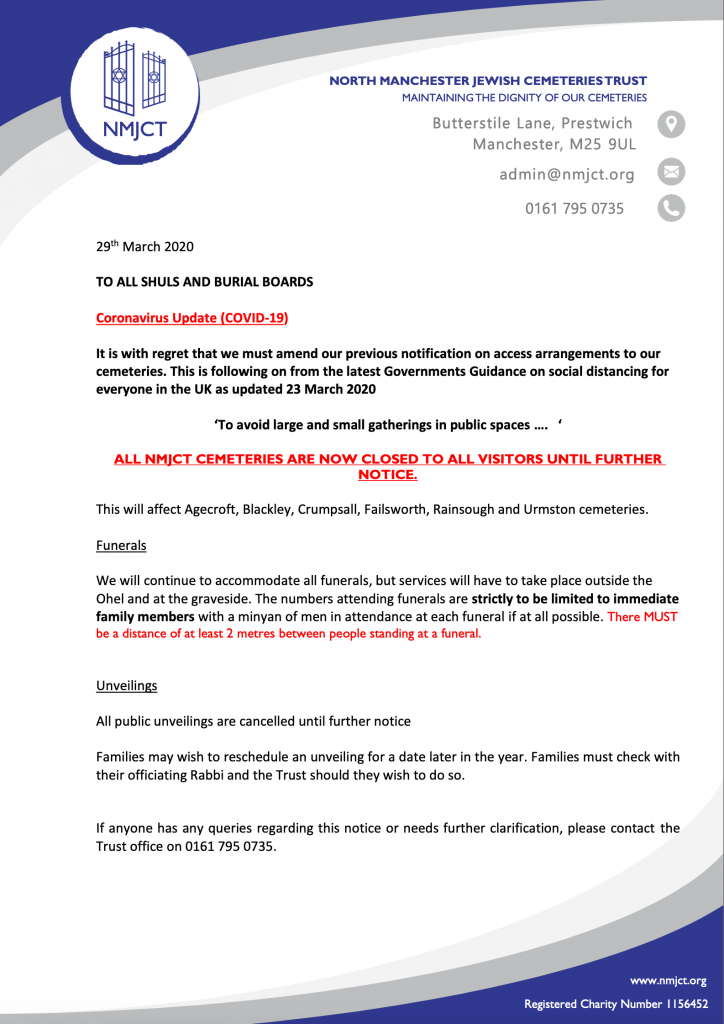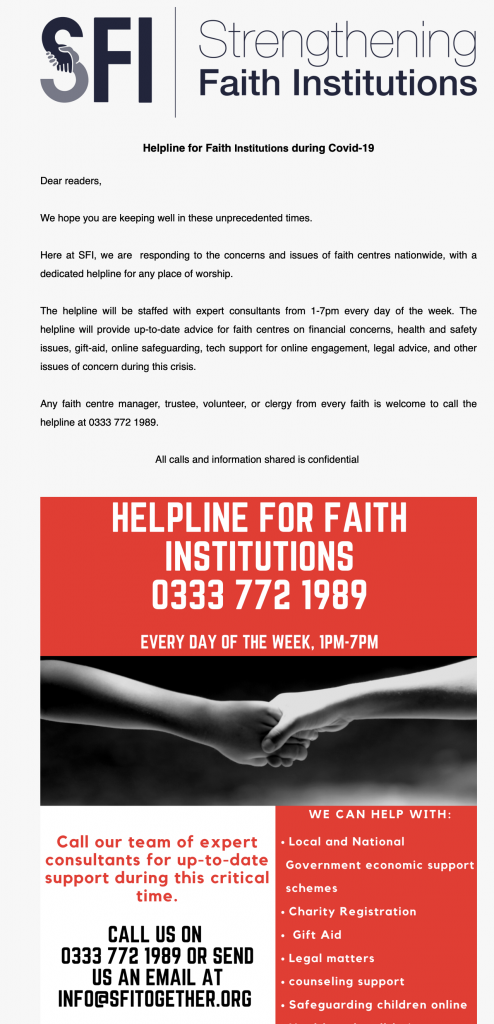 Manchester Police re Places of Worship
Friends,
I pray this message finds you well during these challenging times. People of Greater Manchester, and indeed our fellow world citizens, have shown that the best way to overcome any crises is through our shared values of humanity, compassion and respect – supporting one another as best we can. At this present time the best way to do this is by following the Public Health advice and by supporting the measures outlined by our Government, which are all aimed at protecting our society and helping save lives.
Over the coming weeks, I will provide regular updates to our key communities groups of developments across GM and from time to time will be seeking your support. Please let me know if you do not wish to opt-out of these updates and I will amend the mailing the list.
I share the following message that has gone out via our press office – please share your faith networks
Message to our GM Places of Worship
Greater Manchester Police would like to ask for your support and corporation in implementing the new measures the Prime Minister has put in place in order reduce the impact that COVID-19 has on our communities and we therefore urge you to close your public places of worship.
Greater Manchester is a city made up of a variety of different religions and backgrounds and we understand, no more than ever, the importance faith plays in people's lives. Places of worship are a sanctuary for many people and a place of support, particularly when in a time of crisis and we have already seen this places come together to help our most vulnerable during this pandemic however; it is vital that everyone follows the recent guidelines outlined by the Government.
As ever we would like to work with our communities in order to follow this guidance, and encourage worship leaders to support their community by broadcasting acts of worship.
The police do have the legislative powers to close places of worship which remain open, however we hope that will not be necessary and you will work with us during these challenging times, to reduce the risk of the coronavirus and save lives in the community.
The guidance below has been issued for places of worship.
All must close except for the following exceptions:
· Funerals in places of worship and crematoria, where the congregation are members of the deceased's household or close family. In a case where no members of the deceased's household or family members are attending, friends can attend. A distance of two metres should be maintained between every household group, as per Public Health England guidelines.
· A minister of religion or worship leader may leave their home to travel to their place of worship. A place of worship may broadcast an act of worship, whether over the internet or otherwise.
· For the purpose of hosting essential voluntary or public service, such as food banks, homeless services, and blood donation sessions.
I would like to thank those who have already taken to close their places of worship.
I hope you understand our position and we can continue to work together to support our communities. This advice will be kept under review regularly and we will update you when appropriate.
If you like to raise any issues or concerns, in the first instance please email these to the our [email protected]. Please note this is not for reporting any ongoing incidents our other emergencies which have to done either online, via 101 or in an emergency through 999.
Kind regards,
Umer
Umer Khan
Chief Superintendent
Consequence Management Lead
Greater Manchester
Twitter: @gmpolice
Address – Greater Manchester Police HQ, Central Park, Northampton Road, Manchester, M40 5BP
Board of Deputies Advice
Pesah food guidelines for the UK Jewish community,
In the current unprecedented circumstances, many members of the Jewish community are either in self-isolation or are not in a position to be able to visit a Kosher supermarket to do their Pesach shopping. With this in mind, a number of the UK's main Kashrut authorities have issued special guidelines for Passover this year, providing information on a significant number of products which are more widely available. You can see our round-up of advice here. https://www.bod.org.uk/passover-food-guidelines-for-the-uk-jewish-community-pesach-2020/
Religious burials to be protected as MPs pass amended coronavirus bill
https://jewishnews.timesofisrael.com/religious-burials-to-be-protected-as-mps-pass-amended-coronavirus-bill/
Board urges government to 'provide exemptions' over proposed virus cremations
https://jewishnews.timesofisrael.com/religious-burials-to-be-protected-as-mps-pass-amended-coronavirus-bill/
Government to amend emergency coronavirus bill to stop cremation against families' wishes
https://www.thejc.com/news/uk-news/government-to-amend-emergency-coronavirus-bill-to-stop-cremation-against-families-wishes-1.498364
Board calls on government to 'respect religious traditions' and allow burial for coronavirus deaths
https://www.thejc.com/news/uk-news/board-calls-on-government-to-respect-respect-religious-traditions-when-burying-coronavirus-deaths-1.498345
UK to give religious exemptions for cremation during coronavirus pandemic
https://www.jpost.com/International/UK-Jews-worried-dead-may-be-cremated-due-to-coronavirus-pandemic-621997
Leading UK Jewish Group Expresses Concern Coronavirus Bill Will Violate Jewish Burial Laws
Covid-19
Tributes Pour in After Leading UK Rabbi Dies of Coronavirus
Cultural change – an unexpected side-effect of Covid-19
https://blogs.timesofisrael.com/cultural-change-an-unexpected-side-effect-of-covid-19/
Kosher caterers gear up to deliver Pesach food as coronavirus forces people indoors
https://www.thejc.com/news/uk-news/kosher-caterers-gear-up-to-deliver-pesach-food-as-coronavirus-forces-people-indoors-1.498233
Houses of worship pitch in to help those left vulnerable by virus outbreak
https://www.ncronline.org/news/people/houses-worship-pitch-help-those-left-vulnerable-virus-outbreak
In the US and beyond, houses of worship pitch in to help those left vulnerable by virus outbreak
https://www.sightmagazine.com.au/news/15163-in-the-us-and-beyond-houses-of-worship-pitch-in-to-help-those-left-vulnerable-by-virus-outbreak
Israeli president sends solidarity and prayers in an address to the Jewish diaspora
https://www.thejc.com/news/israel/israeli-president-reuven-rivlin-sends-solidarity-and-prayers-in-an-address-to-the-jewish-diaspora-1.498328
Two ultra-Orthodox Jews die in London as coronavirus shutters most communities
https://www.timesofisrael.com/two-ultra-orthodox-jews-die-in-london-as-coronavirus-shutters-most-communities/
2 Orthodox Jews die of coronavirus in London; another succumbs in Paris
https://www.jta.org/quick-reads
Two from strictly Orthodox community die after contracting coronavirus
https://www.thejc.com/news/uk-news/two-from-strictly-orthodox-community-die-after-contracting-coronavirus-1.498351
'Hundreds of volunteers' step forward to help JCC fight coronavirus spread in Stamford Hill
https://www.thejc.com/news/uk-news/hundreds-of-volunteers-step-forward-to-fight-coronavirus-spread-in-stamford-hill-1.498356
'Devastating': vicar and headteacher among latest UK coronavirus victims
https://www.theguardian.com/world/2020/mar/23/devastating-vicar-and-headteacher-among-latest-named-uk-coronavirus-victims#
Jewish leaders fear ultra-Orthodox Jews have missed isolation message
https://www.theguardian.com/world/2020/mar/23/concern-ultra-orthodox-jews-not-get-message-coronavirus
Community rallies round to support those most in need
https://jewishnews.timesofisrael.com/community-groups-rally-round-to-support-isolated-individuals/
Simon Round
Communications Officer
020 7543 5437/ 07484 082483
www.bod.org.uk | twitter.com/boardofdeputies | facebook.com/boardofdeputies