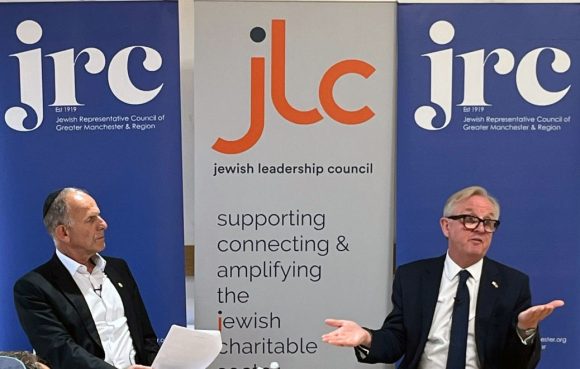 The Jewish Representative Council of Greater Manchester & Region and Jewish Leadership Council hosted Lord Austin of Dudley at an event in Greater Manchester.
He was in conversation with Mark Adlestone OBE DL, Chair of the JRC and a Trustee of the JLC.
An enthusiastic crowd heard Mark thank Lord Austin for his longstanding support to Jewish communities around the world.  Lord Austin thanked Mark Adlestone for his philanthropy and his role as a Jewish communal leader.  He also referenced the work fo Marc Levy and the JLC for their effective political engagement in Westminster.
Lord Austin expressed his views on several issues including life growing up as the adoptive son of a Holocaust survivor, Holocaust education, life in Downing Street as an advisor to Tony Blair and Gordon Brown, contemporary antisemitism along with the rise and fall of Jeremy Corbyn.
Prior to the event, Lord Austin met with Holocaust survivors, Ruth and Werner Lachs, who presented Lord Austin with copies of their The Fed My Voice Storybooks.  It is the belief of Werner that he was saved by Frank Foley, who was celebrated by Lord Austin when he previously unveiled a statue in his memory alongside the then Duke of Cambridge.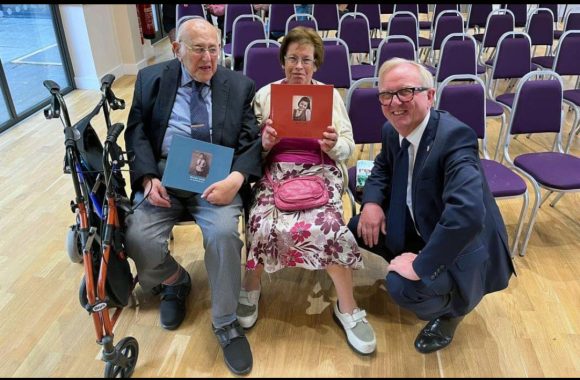 Lord Austin, commenting on his visit, said "It was great to visit and meet the community in Greater Manchester.  To speak with Holocaust survivors Ruth and Werner Lachs was a real privilege.  I am moved that they presented me with their My Voice stories.  It is brilliant to see this fantastic community project producing these books to tell the stories of pre-war Jewish life in Europe, what happened during the Holocaust and the contribution refugees and survivors have made to the UK."
Lord Austin went on to say "It was fascinating to meet Manchester's Jewish community and to listen and understand issues they care about and their concerns first hand.  I want to thank Mark Adlestone and the JRC for giving me the opportunity to speak."
Mark Adlestone, speaking after the event, said "It was a real pleasure to host Lord Austin in Greater Manchester as I have long admired his work.
During challenging times, we have always been fortunate to rely upon Lord Austin's steadfast and unwavering support.  This is not taken for granted and it is important that as a community, we had the opportunity to say thank you.
It was wonderful to hear his views on so many critically important issues.  We have learned important lessons and as a representative body, we are fortunate to have obtained his guidance that will be invaluable in future.
I look forward to maintaining our close relationship with Lord Austin as we continue to advocate for the Jewish community."