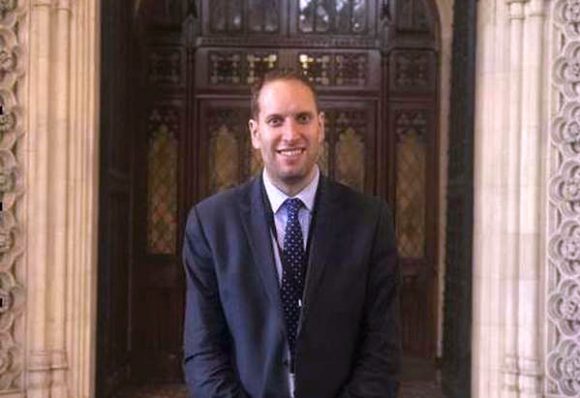 Marc Levy was interviewed for the FED magazine….
Marc Levy's rolodex would make most journalist's drool.
With contact details for some of the most influential and powerful people in the country, he certainly isn't short of people to call on when pressing issues arise.
From wooing former Foreign Secretaries and Secretaries of State for Defence, to enjoying casual dinners – in a pre-Covid world – with leading politicians of all stripes, as the Jewish Leadership Council's North West, North Wales, and West Midlands External Affairs Manager (a greater tongue-twisting title than any of his contacts!) Marc has a window into the personal lives and professional activities of the men and women who inhabit the seat of power across the UK.
All of which make his comments about The Fed astonishing.
"The Fed has literally made my job easier; in some ways it almost makes my job run itself. I can say to one of the most senior politicians in the county, the Secretary of State for Health, that here in Manchester we have one of the best care homes in the country at Heathlands Village and that he should come for a visit – and he is blown away when he arrives.
"Greater Manchester's Mayor, Andy Burnham, regularly publicly references the organisation's amazing work, and it's telling how often he comes to The Fed to visit.
"Having this resource to back up our community is fantastic. When you build expectations up that high, there's a risk they can be easily disappointed – but everyone who visits The Fed is, like I said, simply blown away."
Coming to the JLC in 2016 following a successful 11-year career as a law firm partner, Marc immediately set about building up
a network of contacts in the north of England, acting as the Council's professional and political face for the engagement with Local Authorities and their Leaders, Councilors, Members of Parliament, and Metro Mayors across the region, he has established close relationships and regularly meets with key decision- makers to discuss areas of local and national interest.
"On one visit to a senior member of the Cabinet, I was given a pass that took me straight through the usual security stations and right into the Secretary of State's waiting room.
"One of the armed guards who escorted me up to the office caught sight of the pass and commented that 'You must be very important to have one of those' – to which I responded, 'no, just a guy from Manchester with a big mouth!'"
Involved in communal matters since his teenage years, it was Marc's participation in the UJIA Leadership course in 2015 that set him on the path to his present employment.
"Through the UJIA's course I visited Parliament for a day and was amazed. I thought: 'This is where it all happens!' Even earlier, I had shadowed Ivan Lewis when he was a Minister as part of my work experience, and just got the bug."
Marc grew up surrounded by family who placed a premium on the importance of community involvement. Born in Saltire Gardens, Salford, in the heart of the Jewish community, his childhood served as an introduction to numerous communal organisations and figureheads.
"My grandfather was on his shul's executive board, my grandma was the deputy-head
at King David Infants School for many years, and my dad was shul president. It's really in my blood – the UJIA course just gave me that extra desire to get further involved."
Having grown up just a short distance from Heath;ands Village, Marc's understanding of the organisation has grown extensively in recent years – from a very early beginning.
"One of my truly earliest memories is of singing in the King David school choir at Heathlands Village, back in the late 1980s. I vividly remember the residents clapping and singing along – but aside from that day, the truth is
I didn't know a great deal about either Heathlands or The Fed. "Little could I have imagined that three decades later, The Fed would be enabling me to engage with some of the most senior politicians and leaders across the county.
"It's safe to say that I now share a wonderful relationship with the place."
As an advocate for the Jewish community on a national scale, Marc is uniquely placed to view and pass comment on the wealth of Jewish organisations across the county – so how does he view The Fed?
"Throughout the pandemic, I've seen the same phrase over and over again – 'the community's safety net' – and I couldn't put it any better. That's a brilliant turn of phrase.
"The fact that one in eight homes in Jewish Manchester rely on the care and support coming out of this organisation is breathtaking. Unlike my younger self, I am fully aware of the breadth of the services The Fed provides – but I don't think
The Fed does.
"Aside from the most well- known services, some of the smallest things can make the biggest difference – volunteers
to go shopping, mental health Drop-In sessions for community members, a listening ear, a simple act of much-needed friendship.
"The plainest way of putting it is The Fed is instrumental to the future. The Jewish community would not be able to function without it."
In more recent times, Marc has strengthened his relationship with The Fed further, joining its inaugural Philanthropy & Leadership course, organised by Director of Fundraising and Marketing, Raphi Bloom.
"It's been fascinating," Marc enthuses. "I enjoy listening and learning from all different kinds of people, and hearing from titans of industry and commerce like Leo Noe and James Timpson has been mesmerising. All the speakers we have been privileged to hear from have achieved so much in the worlds of business and philanthropy and have pertinent lessons for people of my generation.
"You simply cannot buy access, information, and experience like that – and it's being handed to us on a plate by The Fed."
Spending time with leading figures like Leo and James has reinforced Marc's passion – if there were any doubts whatsoever – that getting involved in your own community is of vital importance.
"We all love our communities – speaking personally I love the Manchester community. We all care for each other and want the best for one another. Even throughout the Covid-19 pandemic I have been continuously inspired: the creation and mobilisation of the Covid-19 Response Group, which morphed into the Jewish Strategic Group, has shown me how inspiring our leading community organisations are. In the face of such adversity outwards at how they could help the most vulnerable and needy.
"The Strategic Group, chaired by Mark Adlestone OBE DL – another Fed luminary – is already making great strides in preparing the community for the challenges of a post-Covid world."
As someone who has seen Ministers come and go, and Council Leaders and Members of Parliament voted in and out of office, the sense of permanence and stability that these communal bodies offer is not lost on Marc.
"These organisations are amazing – invaluable even – and the crucial lesson is that when we can give, we must give – you might need them yourself one day.
"The safety net is knowing that The Fed will be there if you do."
Quite the lesson, coming from just a guy from Manchester with a big mouth.
Author: Robert Marks, Marketing Manager, The Fed