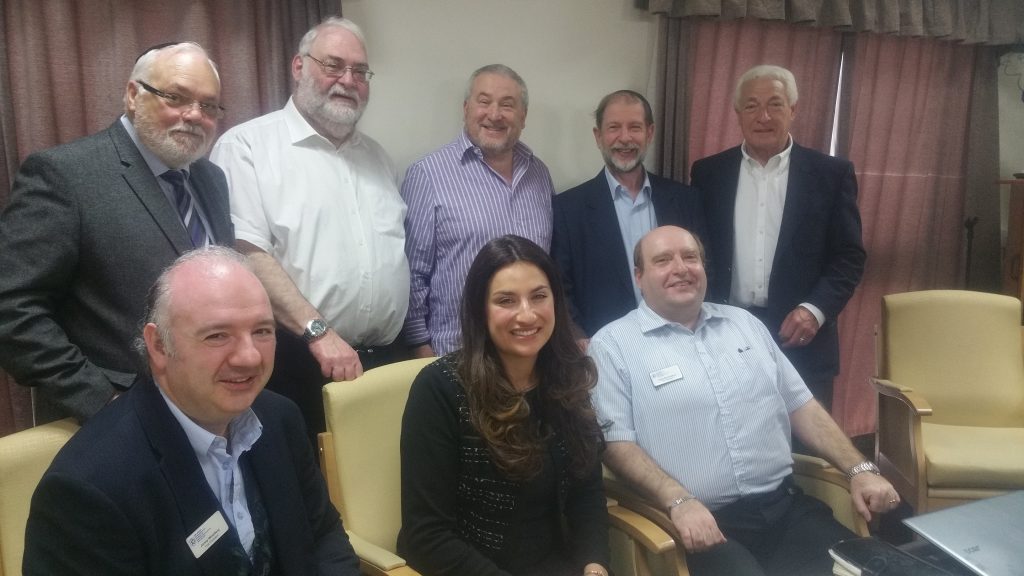 The AGM took place on Sunday 8th May with guest speaker Luciana Berger MP.
This was the first election to the new structure of the Council.
Officers elected:
OFFICERS
President    Sharon Bannister
Chair    Jonny Wineberg
Vice-Chair Public Relations    Jacky Buchsbaum
Vice-Chair Education    Rabbi Tony Walker
Treasurer    Phil Langer
Secretary    Michael Rubinstein
Publicity Officer    Clive Moss-Barclay
Youth & Community Officer    David Lewis
EXECUTIVE
Community Secretary x2    David Davis
Youth Secretary x2    No Nominations
Fundraising Secretary x2    Susan Isaacs, Linda Jacobs
Publicity Secretary x2    Filis Rosenberg, Emma Pearlman
Public Relations Secretary x2    Herzl Hamburger, Alex Klein
Education Secretary x2    Barbara Goldstone, Jeremy Michelson
Antisemitism & Human Rights Secretary x2    Jay Charara, Sherry Ashworth
Presidents Report AGM 2016
I am honoured and proud to stand before you today and deliver my report at the end of my second year as your President. As I said last year and I repeat again, the report does not include everything that we have done, organised or been involved with over the last year – to do that would take too long. Again I thank everyone who has been willing to stand in for me when I have been unable to get the time off work. A special thanks must go to Rabbi Tony Walker who took on the responsibility to visit the Mayors of Greater Manchester; he was supported by many members of the Council. Thank you to you all and thank you Tony for agreeing to do the same for the coming year.
As you know, as I have said it often enough, I work and cannot attend all the functions that I am invited to. Even so, in the last year, I have attended over 80 events or meetings on your behalf. That does not include the monthly council executive and Honorary Officers meetings. Thank you to all of those that stood in for me on the many occasions when I was unable to attend, I appreciate your support as it is important that we are represented.
Office staff
For the 16 years I have been attending this Council, Presidents and Honorary Officers have come and gone. Delegates have changed, some faces are familiar and some are new. The one constant has been the 2 dedicated admin staff – Susan and Karen. Karen has been with us for 16 years and Susan for 26. They have been the backbone of The Representative Council. Nothing happened that they did not know about. They knew who was who in whichever organisation was mentioned, they knew who to contact for most things and they knew what needed to be done before it even needed to be done. Their commitment and stability has been essential to the smooth running of this council and essential support to each and every President. This will be the last time that I will be able to say this, not because I am stepping down as President but because they have both decided to retire. Karen left in February and Susan will be leaving at the end of this month. We will have challenges ahead but I am confident that Laurie, our new member of staff, will be more than capable of stepping up to the task. I also appreciate the offers from both Susan and Karen to be available to answer any questions that might arise. Thank you – you will be missed.
Hon Officers
I have been very lucky during my time as President; I have an excellent team around me. The 2 vice presidents, Jonny Wineberg and Jacky Buchsbaum, the 2 Honorary secretaries, Michael Rubinstein and Rabbi Tony Walker, plus the experienced treasurer Phil Langer have all worked well together. When Susan or Karen needed advice during the day and I was unavailable, one of the Honorary Officers would quickly stand in for me to provide the information or answers that were needed in the office.  It has been a pleasure working with you and chairing the monthly Honorary officers' meetings and working with you all– thank you. I will miss that role in the coming year.
Former Presidents
Last year I paid tribute to the former presidents (in alphabetical order by surname) David Arnold, Frank Baigel, Lucille Cohen, Barbara Goldstone and Louis Rapaport who had all  been willing to answer my many questions. This year I repeat that thanks – I very much appreciate that you have all been available on the end of the phone or via email if and when I had any questions. I know that sometimes you might have thought that I was not listening, but I assure you that I took all of your advice and suggestions on board before deciding on my action. I am sure that I will be in touch in the coming year.
Thank Reps
I want to thank each and every one of you who has gone out and represented this Jewish Community at any event in the last year. When I am asked by non-Jewish people – what is the Representative Council, my short answer is that we are made up of Representatives of many Jewish communal groups, organisations and synagogues in the area, and then we go out and represent our community in the wider world. We make sure that the Jewish voice is listened to and heard. So thank you again to all of you that have had the time and been willing to speak up for us all.
Guest Speakers
We have again been privileged in the last year to hear some extremely interesting and informative guest speakers at our monthly meetings.  I know that many of you attended each of these but please forgive me for recalling their names.
Gideon Klaus, Executive Director of British-Israel Chamber of Commerce North West spoke about Opening Direct Business Links between the North West of the UK and Israel.
We were delighted to hear Jonathan Arkush, the then newly elected President of the Board of Deputies talk about his Priorities and Perspectives for the coming year. This was one of his first visits to a community following his election.
The interim Mayor of Greater Manchester, Tony Lloyd spoke to the Council on "The new Mayoral role and devolution and how it may effect the Jewish Community".
In November we were addressed by three different people on three different topics. A representative from the CST gave us an update on the security situation both in this country and around the world.
Lawrence Rosenberg, the Chair of Manchester JSoc reported to us the situation on campus and in particular the decline in Jewish students attending our local university. Lawrence stands up to what he believes and is showing himself to be a future leader.
We then heard from Richard Verber, Senior Vice President of the Board of Deputies who spoke about the workings of the Board. He expressed concern that many synagogues in Manchester did not send a deputy to the Board of Deputies. This means that not all voices are being heard.
Daniella Sultan, Co Chair of Manchester Day Limmud gave us an update on the wide variety of sessions that would be taking place at the extremely well attended Manchester Day Limmud 2016.
Dr Sandi Mann and Jonny Wineberg presented the results of research funded by Salford CCG (Clinical Commissioning Group) to ascertain the needs and requirements of Jewish people in Salford from local health providers.
Jim Battle, Deputy Police and Crime Commissioner gave us his thoughts on Hate crime. He assured us that incidents like those that occurred outside Kedem would be handled swiftly in the future. He stressed that he would not stop focusing on hate crime and prejudice.
Last month we heard from Jennie Goldstone, UK Sarel co-ordinator. She explained that Sar-El is an acronym for Service to Israel and is open to all to give between one and three weeks of their time doing volunteering tasks for the Israeli army.
We then heard from Judith and David Phillips, they along with 20,000 others had attended the American Israel Public Affairs Committee conference (AIPAC) in Washington. We were fortunate to be told about their experiences and their enthusiasm painted a fantastic picture.
Committees
As last year I chose not to have guest speakers at every meeting and to keep some dates back for reports from the 6 committees Finance and Fund raising, Publicity, PR, Education, Youth and Community and Anti-Semitism and Human Rights. This gives the committee members and chairs the opportunity to inform this council of what they are doing, and gives you the opportunity to ask questions. Anybody interested in joining one of the committees please let the office know.
I hope that in the next year we continue to be educated, informed and enthused by some more wonderful speakers. If there is anybody in particular that you think has a message that we need to hear then please notify the office.
Community Challenge Quiz/Fundraising
Our annual Community Challenge Quiz is an opportunity for organisations to come together and pit their wits against each other. Linda Jacobs and her team ensure that it is always a social success and I encourage you all to make sure that your organisation has a table for this year's event.
We will shortly be launching our new fund raising venture, which is a raffle. Tickets will be printed soon and I encourage you all to try and sell as many as possible. The more money that we raise means the more work that we can do for the community.
Thank you to Linda Jacobs and Susan Isaacs for grasping the responsibility to try and raise funds for this council.
This year our Yearbook has brought in over £24,000.   This, as always is the major source of our income and without those contributions I am unsure how we could possibly be able to operate. This has been mainly through the efforts of Dr Sydney Baigel OH who was dedicated to this council.  Through his commitment and perseverance each year he, with the support of his team, managed to raise much needed funds. I thank them all and I hope that people, businesses and organisations will continue to support our Yearbook.
Sydney was an amazing man, he was never afraid to give his opinion, he had a quick mind and often saw things that others did not, could not or would not see. He kept me and others on our toes and he is, and will be a huge loss. We wish Frank and his family a long life.
Departed, Arrivals & Simchas
Another stalwart lost to our community in the last year is Rabbi Yehuda Brodie. He treated everybody with respect. So much has been said about this great man that there is nothing that I can say other than I really miss his wisdom, humour and smile. Our thoughts and prayers go to his family.
I cannot move on from this part of my report without mentioning Brian Wolfe the late husband of Joy. Now I think that every Jewish Mancunian knows of Joy but how many of us really knew Brian? I confess, I didn't. I thought of him as being very supportive to Joy, without that support she would not have been able to do the work standing up for Israel that she does. I admired him for being the quiet man behind Joy. He was that person but he was also a really remarkable man and achieved so much in his life. I only heard about him after he had died and I regret not knowing him properly. I wish Joy and family a long life.
This has been a sad year for all of those affected by the death or ill health of a loved one and I send my thoughts to each and every one of you.
At the other end of the scale we can celebrate that there are 12 new lives, either grandchildren or great grandchildren of delegates. There have been numerous engagements, weddings, bar and bat mitzvahs, special birthdays and anniversaries. We celebrate that life goes on.
If, during the year I have not acknowledged your special day then I apologise but if I did not contact you at the time then I did not know about it. So, please accept a collective Mazeltov.
We also congratulate those amongst us that have been rewarded for their tireless communal activities and been honoured by HM the Queen: Mark Adlestone, David Arnold, Henry Donn and Chaim Ferster. Mazeltov to you all and thank you for your efforts.
Congratulations to Heather Fletcher, the delegate for the Muslim Jewish Forum for being successfully elected last Thursday as the Labour Councillor for Swinton South. Commiserations to Rabbi Arnold Saunders and his son Yoni Saunders in their unsuccessful bids to become councillors.
Yom Hashoa
The Yom Hashoa Commemoration this year was held at the AJ Bell Stadium and was attended by almost 1000 people.  I was unable to attend this year for personal reasons but have been informed that the programme on the night was, as always,  moving and informative and I would like to thank all of those involved in organising such a memorable evening. I am sorry that I could not be there as my cousin spoke publicly for the first time about his experiences. I remember asking him many years ago about his time in the camps and his eyes would glaze over and he would drift off to another place, shake his head and look away. I am very proud that he has been able to eventually tell our community about what he experienced. We must never forget.
New Structure
In the past year I am pleased to say that we have changed our constitution so that we can now begin to really move forward. This is a major step and I am delighted that we have finally taken that decision. The six committees are formed, some working better than others but we have a sound foundation to build on. New people have come forward to offer their time and join specific committees. They have seen that with our new structure we are beginning to become proactive as well as reactive and they want to be part of what is moving towards, a vibrant organisation. We want the Manchester Jewish Community to talk positively about this council, we need them to know what we do, we need the community to know where to turn and we need them to know that we will be their voice.
This AGM is the first under the new structure, we will have a Chair as well as a President. The chair will be responsible for the internal running of the council and the president will be the external face. The executive committee is trimmed down and will have 2 representatives from each committee. This is an interesting stage in our development and I am looking forward to the coming year.
Social Media
Part of our development is also to improve our social media. This has begun to happen with our Facebook page, our twitter account, our website and the online news-reporting paper Jewishmanchester.today. Other organisations were ahead of us with developing their online presence but I am pleased to say that we are slowly closing that gap. To continue our progress forward with all of these will be a priority in the coming year. If any of you would like to be more involved with this particular side of our work please let me know.
RepPresents
For several years RepPresents has been edited by Barbara Goldstone and she has done an excellent job and I thank her for her dedication. This year Barbara decided to stand down from this role and I am pleased to say that Clive Moss-Barclay came forward and has taken on the mantle. Clive has produced 2 editions of this paper and we have had positive feedback for both issues. I would like to ask you all, if you attend an event on behalf of this council or our community will you please write a few words and send them to Clive.
Can you also send a quick email to inform the office that you have been a voice at a particular meeting? We can then keep a record of where we have had representation. This can help us to identify gaps and try to fill them. This year we have attended over 300 meetings on behalf of our community and that is only the ones that I am aware, there will be many more – so please let the office know.
BoD/JLC
I continue to be your representative at both the Board of Deputies and the JLC. I am delighted to report that the JLC have decided to invest "in the regions". They are in the process of recruiting several External Affairs Managers. There will originally be three, one for Scotland based in Glasgow, one for the North East based in Leeds and one for the North West based in our office in Manchester. This financial commitment from the JLC should be welcomed and will be a great asset to our community.
Decorum and Behaviour
I am saddened when people shout or criticise another person who is just trying to do their best for this community. We all have our own way of doing something but that does not mean there is only one way. All of us here are giving our time voluntarily to benefit our organisations and the Jewish community.  I have worked hard during my two years as your President to make our meetings less hostile, to make them more relaxing and welcoming. We can still get everything done that needs to be done without being hostile to anyone. I think that I have gone some way to achieving that and I hope to improve next year.
CST
Once again I have deliberately tried to avoid mentioning any of our constituent organisations in whom each delegate has a special interest and any other groups, congregations, clubs, societies or committees, for fear of omitting those who do deserve special mention. However, I feel I must once again make an exception by thanking the excellent CST for their tireless work on behalf of the entire community. Their volunteers provide a valuable and very much appreciated presence at so many locations on so many occasions.
Summing Up
I know that I said this last year but I will repeat it as it is vital to our future. Thank you to all of you here and in the community, whether a delegate or not, whether affiliated to an organisation or not, that month in and month out give your time freely and willingly to support and benefit this Jewish Community. Thank you!