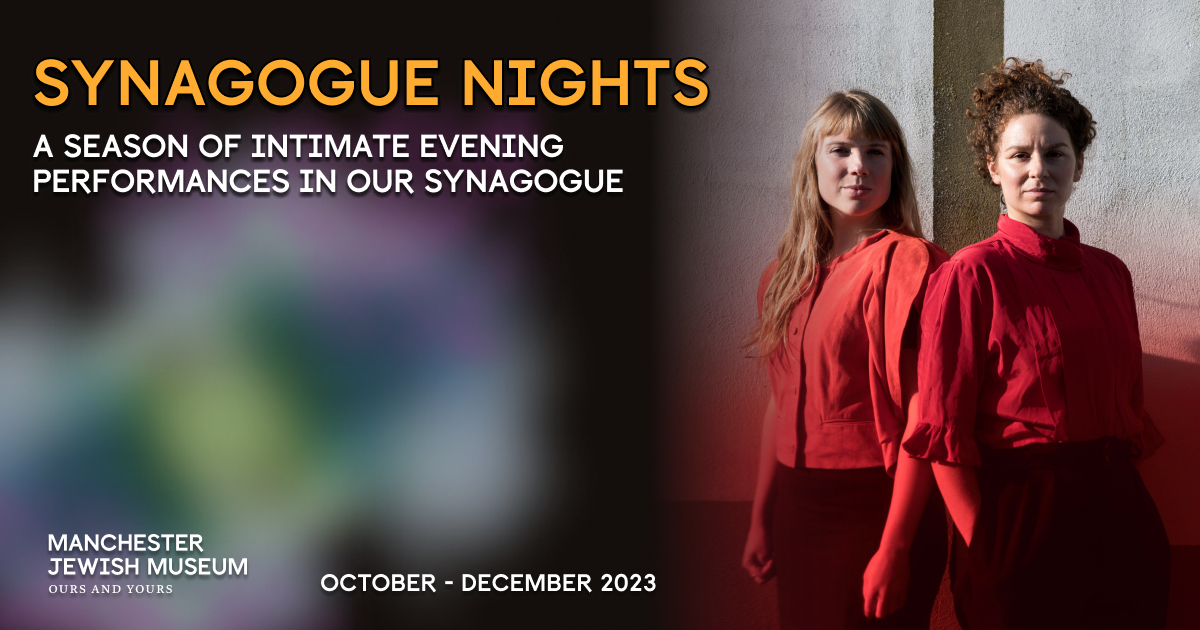 This autumn (October-December) you can join us for a series of atmospheric evening events in the unique setting of our 1874 Spanish & Portuguese synagogue. From musical concerts and theatre to film screenings, this year's programme brings together artists from a wide range of genres. We have 5 wonderful shows, all celebrating Jewish stories and showcasing talent from Manchester and beyond.
CRITICALLY ACCLAIMED DUO FRAN & FLORA PRESENT NEW MUSIC FROM THEIR FORTHCOMING ALBUM PRECIOUS COLLECTION.
Fran & Flora was born out of a deep friendship, musical bond and shared interests in traditional music, improvisation and sense of adventure. Having just finished their second album together, this experimental folk duo, made up of cellist Francesca Ter-Berg and violinist Flora Curzon, come to Manchester to present their new music in our synagogue.
Unfurl, the debut album by Fran & Flora, was released in February 2019 to critical acclaim. Incorporating tunes and songs collected on their travels, the album was the culmination of three years studio work with producer Sam Beste (The Vernon Spring / Hejira) where they explored their aesthetic, experimenting with interweaving textures and layers, electronics and analogue processing. In June 2020 a 5 track remix EP was released celebrating tracks from Unfurl. Remix artists included Portico Quartet, Deep Throat Choir, Dylan Henner, Enhang Ha (Berlin), The Yellow House and Dylan Henner which was championed by Mary-Anne Hobbs (BBC 6 Music).
The duo draw inspiration for their material from their travels and mentors in eastern Europe and beyond. Their compositions stem from the melodies of Klezmer, Transylvanian, Romanian, Greek and Armenian music, as well as drawing on archival recordings. Fran & Flora seek to combine elements of these rich musical traditions with their ever evolving, experimental collaboration.
"Precious Collections", their second studio album will be released in 2024. Join us to hear the preview during Synagogue Nights!
WHAT YOU NEED TO KNOW
The recommended age guidance for this show is 14+. The event will begin at 7PM and finish at approximately 8:30PM.
Doors to the museum will be open from 6pm. The museum's Café will be open for food and drinks before the show. Please note that food and drinks can not be taken into the synagogue, so please allow enough time before the performance.
Our building includes step free access to the entrance via a ramp and accessible gender neutral toilets. The synagogue is also wheelchair accessible. Click HERE for more Access information. If you have any additional access needs, please e-mail [email protected] in advance.
We are just a 15 minute walk from Victoria Station and Manchester's Green Quarter. Click HERE for information on travelling to the museum.