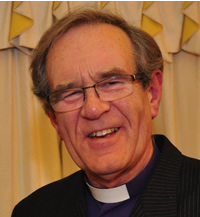 On December 3rd, the Rep Council invited the outgoing Bishop of Manchester, the Rt Revd Nigel McCulloch, to a special farewell reception at the home of President Frank Baigel.
The Rep Council and the community at large has enjoyed good relations with Bishop Nigel during his incumbency and we wish him and his wife well in their retirement.
Frank Baigel presented Bishop Nigel with a certificate signifying trees planted in his name in Israel and also the autobiography of the former Chief Rabbi of Israel, Israel Meir Lau – Out of the Depths.
The following pictures are by kind permission of Lawrence Purcell
(click to see a larger image)