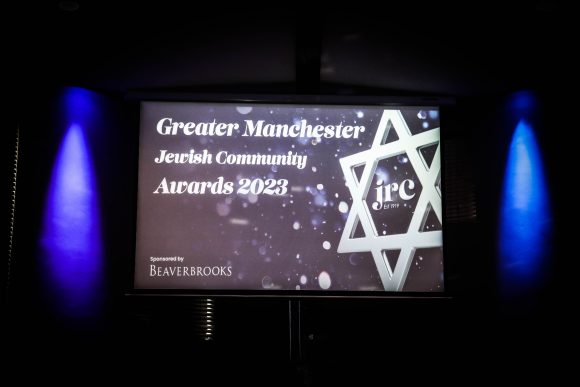 𝐓𝐡𝐞 𝐉𝐑𝐂 𝐡𝐨𝐬𝐭𝐞𝐝 𝐭𝐡𝐞 𝐆𝐫𝐞𝐚𝐭𝐞𝐫 𝐌𝐚𝐧𝐜𝐡𝐞𝐬𝐭𝐞𝐫 𝐉𝐞𝐰𝐢𝐬𝐡 𝐂𝐨𝐦𝐦𝐮𝐧𝐢𝐭𝐲 𝐀𝐰𝐚𝐫𝐝𝐬 𝐬𝐩𝐨𝐧𝐬𝐨𝐫𝐞𝐝 𝐛𝐲 𝐁𝐞𝐚𝐯𝐞𝐫𝐛𝐫𝐨𝐨𝐤𝐬 𝐨𝐧 𝐓𝐡𝐮𝐫𝐬𝐝𝐚𝐲 𝟕𝐭𝐡 𝐒𝐞𝐩𝐭𝐞𝐦𝐛𝐞𝐫 𝟐𝟎𝟐𝟑.
The event, hosted by Ashley Boroda, was attended by over 300 professional staff, volunteers, trustees and dignitaries who celebrated the immense contribution of Jewish communal charities.  The JRC received a record number of 115 nominations for the 11 award categories and the winners were:
👏 Big Birthday Appeal Award – Ben Sarak
👏 Rising Star Award – Danielle Jeffries
👏 Friend of the Community Award – Ken Conway
👏 JRC Community Recognition Award – The Fed's My Voice Project
👏 Young Person Special Recognition Award – Hannah Mendell
👏 Special Recognition Award – Ike Alterman BEM
👏 Crisis Response of the Year – L'Chaim Foodbank
👏 Volunteer Team of the Year – Community Security Trust
👏 Communal Employee of the Year – Adele Whitehead
👏 Volunteer of the Year – Dr Sandi Mann
👏 Lifetime Achievement Award – Russell Conn
The awards were presented by members of the community alongside dignitaries including the Metro Mayor of Greater Manchester Andy Burnham, Vice Lord Lieutenant Sharman Birtles MBE & High Sheriff Mary Liz Walker. Also in attendance were Christian Wakeford MP and Lord Mayor of Manchester Cllr Yasmin Dar.
We want to extend a huge thank you to the judging panel which comprised of Gabrielle Adlestone (the Chair), Jude Moryoussef, Rabbi Daniel Walker, Rabbi Robyn Ashworth Steen, Christian Wakeford MP, Daniel Rosenberg & Cllr Richard Gold. It was a mammoth job to decide the winners!
Messages of congratulations included a personalised letter from the Prime Minister, Rishi Sunak MP and a video message from the Leader of the Opposition, Sir Keir Starmer MP.  Avrumi Halpern entertained the guest with an uplifting performance of Jewish songs halfway through the evening.
The JRC Chair Mark Adlestone OBE DL said "One of our priorities has always been celebrating the work of the Jewish communal charitable sector.  I was therefore delighted that we were able to host a hugely successful evening designed to say thank you to those organisations and individuals who undertake incredible work.
Since assuming my role as Chair of the JRC, I have visited many organisations across our diverse community.  Without exception, I have nothing but admiration for the innovative way they operate and care for members of our community who may be vulnerable and in need.
The fact our charities are seen as beacons of best practice fills me with immense pride.  It is also a wonderful endorsement that we are happy to share our templates for success to assist other communities.
Having reviewed the sheer number of nominees and knowing about their extensive work, it would have been an unenviable task for our judging panel to arrive at their decisions.  I congratulate all nominees and hope this recognition inspires them to continue positively contributing to our community."
The Prime Minister Rishi Sunak MP wrote "I would like to commend everyone connected with the Jewish Representative Council of Greater Manchester & Region for arranging a wonderful Community Awards.  It is always essential to highlight the selfless volunteers and community activists who are the bedrock of our third sector.
The sheer number of nominations shows how these values are embodied in the makeup of the Jewish community across Greater Manchester.  I am aware of the charities from across the whole community performing incredible work and I applaud your dedication.
To all those who have been nominated, I am so pleased that your endeavours have been recognised.  And to the winners, I wish you all Mazel Tov".
The Leader Of The Opposition Sir Keir Starmer MP delivered a video message saying "Today is the Manchester Jewish Community Awards, a special day to celebrate the hard work, dedication and commitment of the Jewish community in Manchester.  A community that like so many goes above and beyond to support the most in need.
From the charities and their hard-working staff, to the many volunteers in foodbanks, and community groups, to the tireless work of synagogues who bring and bridge communities together.  I just want to say thank you, not just for what you have done but for all the brilliant things you will go on to do in the weeks and months ahead.
Your work is vital and you conduct it with the greatest sense of generosity, kindness and dedication.  These awards showcase the best of Manchester and highlight how lives across the country are enriched by the Jewish community.  As Leader of the Labour Party, I am proud to support the Jewish Community Awards".
I know that your values and our values and I would like to congratulate you all on this special evening".
Metro Mayor Of Greater Manchester Andy Burnham, who joined us on the night and presented an award, said ""It is always important to recognise the immense contribution made by all the individuals and charities being celebrated this evening.  It is a source of great pride to me personally and everyone connected with the Greater Manchester Combined Authority that we have so many dedicated individuals from the Jewish community.
I am regularly left inspired by how, without hesitation, people here go above and beyond to care for those in distress.  This is done out of pure generosity and without seeking recognition.  However, I do believe it is important to note their contribution through events like the Jewish Community Awards, where we can say thank you.
I would also like to commend the work of Mark Adlestone who has done an incredible amount to advocate for the Jewish community as Chair of the JRC and also Marc Levy, its Chief Executive.  Greater Manchester is fortunate to have leaders like Mark and Marc who work tirelessly to bring communities together.
I value and appreciate my relationship with the Jewish community and look forward to many more years working together".
On behalf of the JRC we wish to thank you everyone who took the time to nominate individuals, teams and organisations, to our judging panel, the event organisers and those we joined us on the night. We can rightly be very proud of our Manchester Jewish community!