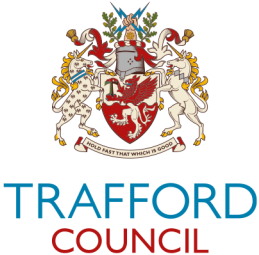 Trafford is home to a thriving and diverse Jewish community who have always enjoyed an excellent relationship with friends and colleagues from wider society.  Unfortunately, over the previous few weeks, Jewish people and organisations been subjected to an increase in hate crime across the Borough due to reaction to hostilities in the Middle East.
The Leader of Trafford Council, Cllr Andrew Western met with Amanda Bomsztyk and Marc Levy to discuss these ongoing concerns.  We spoke about the dramatic increase in hate crime targeting the community and how antisemitism was currently affecting Jewish people across Greater Manchester.
Trafford Council shares the concerns of the Jewish Leadership Council, Jewish Representative Council of Greater Manchester & Region and Community Security Trust in ensuring a conflict taking place thousands of miles aware is not transported onto local streets.  The Council will take all necessary measures to ensure communities feel safe and secure going about their daily routines.
AMANDA BOMSZTYK – REGIONAL DIRECTOR OF THE COMMUNITY SECURITY TRUST AND MARC LEVY – CHIEF EXECUTIVE OF THE JEWISH REPRESENTATIVE COUNCIL OF GREATER MANCHESTER AND REGION SAID:-
"We are extremely grateful to Andrew for allowing us to come and discuss our concerns regarding the increase in antisemitic hate crime across Trafford and Greater Manchester.  We are fortunate to have always enjoyed an excellent relationship with Andrew and the team at Trafford Council.
Their commitment to ensuring the Jewish community continues to flourish is appreciated and hugely reassuring."
CLLR ANDREW WESTERN – LEADER TRAFFORD COUNCIL SAID:-
"Trafford has always been a diverse and open place.  I was deeply saddened to hear that Jewish people in Trafford and elsewhere have been targeted due to hostilities in the Middle East.  I am delighted to hear that Greater Manchester Police have been so proactive in tackling this problem.
I wish to make it clear that all forms of hate crime are abhorrent and will not be tolerated in Trafford."