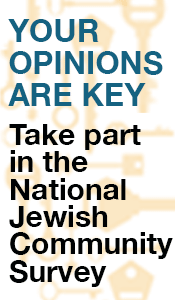 JPR announces the launch this week of a major national survey of Jewish opinion, in order to generate data to support the policy needs of Jewish charities working across the community.
The National Jewish Community Survey (NJCS) will be the first survey of its kind for over a decade, and is being funded by Pears Foundation, JPR, and a wide range of community charities including UJIA, Jewish Care, Norwood, Nightingale House and several of the synagogue movements. In addition, numerous other communal organisations have given active support to JPR in the development of this project through an extensive consultation process which examined issues such as Jewish religious and communal life, social care and welfare, fundraising and charitable giving, and education – all of which are covered in the survey.
The NJCS is also being designed to be used alongside the data on Jews derived from the 2011 UK Census, which is being released in stages by the Office of National Statistics. JPR has already begun its analysis of the Census data and has published two initial reports.
The NJCS is being conducted by JPR in association with the research agency Ipsos MORI. The team includes two of JPR's Senior Research Fellows: Dr David Graham, the expert on Jewish demography who undertook much of JPR's work on the 2001 Census and co-authored JPR's 2010 Israel Survey and 2011 National Jewish Student Survey, and Dr Laura Staetsky, a social statistician who previously worked at RAND Europe, and Israel's Central Bureau of Statistics.
The initial findings report is scheduled to be published towards the end of this year. From that point onwards Jewish community organisations will be able to commission JPR's research team to produce bespoke reports that focus in greater detail on their specific interests.
Jonathan Boyd, Executive Director of JPR, explained: "The National Jewish Community Survey is part of a concerted effort to generate empirical data designed to serve policy planning across the Jewish community in the coming years. The data we gather now will have a significant bearing on how Jewish charities serve people's needs going forward, and JPR's research team will be heavily engaged in ensuring that the findings are made available to as many charities as possible. This survey embodies JPR's strategic approach – providing data about the community, for the community – so please look out for an email about it in your inbox and take the time to complete the questionnaire."
To take part in the National Jewish Community Survey please click here
For further information about the National Jewish Community Survey please click here.