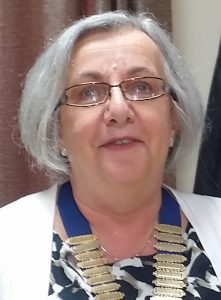 Statement about Sharon's Award:
We are hugely proud of the award of the British Empire Medal to our President, Sharon Bannister, in the New Year's Honours list.
Sharon has been an outstanding worker and leader in the Jewish community for the last two decades, committing herself to public service through her work with the Jewish Lads & Girls Brigade and Jewish Representative Council of Greater Manchester and Region. She commits almost all of her free time to representing the Jewish community to civic and other leaders across Greater Manchester as well as to the wider Jewish community with her role on the Jewish Leadership Council and Board of Deputies of British Jews.
In the last two years, Sharon has overseen major changes to the Jewish Representative Council, enabling it to become more proactive and attract younger, more dynamic members. She has also been at the forefront of responding to challenges the Jewish community faces, including bringing the community together to present a united front when under antisemitic attack and working with the Muslim Jewish Forum of Greater Manchester to protect our communities right to religious slaughter.
I have had the privilege of working with Sharon since her days as a youth worker at Sunnybank Community Centre when I was the Northern Officer of the Association for Jewish Youth. In 1995 she became Director of the Jewish Youth Project, overseeing its innovative work until it closed in 2009. The amazing outcomes of The Project's work were evidenced both through surveys that showed improvements in young people's concerns over issues as well as the young leaders who emerged through its programmes.
Sharon also volunteered as a member of the assessment team for the Manchester University Community Work Unit, giving advice and guidance as well as support to prospective Workers.
Sharon has also served as a Trustee and Honorary Secretary of Counselling Direct, a small counselling charity in Bury supporting local people with issues such as teenage pregnancy, substance abuse, debt and mental health. She has also been a member of a fundraising committee for the Rob's Day Unit" – the day patient facility for the Young Oncology Unit at The Christie, since 2005. This was set up in memory of one of the young people who attended The Project who died from cancer aged 19.
Through her commitment, public spirit and selflessness, Sharon has earned the respect of both myself and many other of her peers. She is a role model to our community and an inspiring figure for society as a whole.
Jonny Wineberg
Chair of Executive, Jewish Representative Council