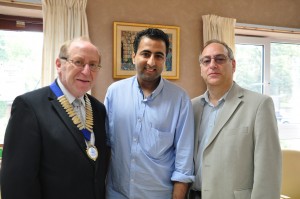 On Sunday 2nd September Kasim 'Kaz' Hafeez gave the address to the Council meeting.
Kaz was introduced by Honorary Secretary, Ray Cook.
Kaz spoke about his experiences within the Muslim community in his home town of Nottingham and beyond. Kaz was once  an anti-Israel, anti-Zionist, antisemite who happened to read Alan Dershowitz's book, The Case for Israel', decided that maybe he had been told lies all his life, visited Israel and was shocked at the difference between the reality and what he had been brought up to believe.
He returned a committed Zionist and began a website, became an online activist and spoke all over the UK and also in Canada and Israel.
Kaz stressed the need to put Israel's case more stridently but at the same time we must not hate one another which is very destructive to the individual.
Kaz warned about the influence of Islamism whilst stressing that most UK Muslims just want to get on with their lives. Saudi Salafist influence in the mosques and schools is highly problematical.
Jacky Buchsbaum, Vice President, offered the vote of thanks and Kaz then took part in a lively question and answer session.