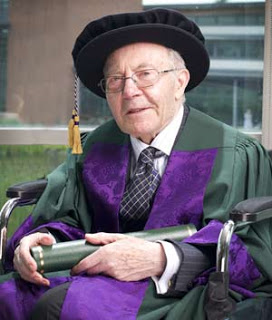 On Shabbos 21st July at Whitefield Hebrew Congregation I was honoured to witness a very special event; Mayer Hersh was given an aliyah and later a kiddush in his honour.
Earlier that week Mayer had received his honorary doctorate, a DEd from Edge Hill University. A fitting tribute to his dedication over many years to tell the story of his own experience of the Holocaust.
At the kiddush President Mike Williams read the citation given at the University by Prof. Verney and other speakers came especially to pay their tributes.
Robert Kanter is a teacher at Bury C of E High School and a member of the Education Committee; Mrs Sarah Kirkham is Head of 6th Form at Knutsford Academy; Ian Phillips is Senior Lecturer History Education and History PGCE Course Leader, Dept. of Education, Edge Hill University; David Arnold is Co-Chair of the Council of Christians and Jews and a former President of the Manchester Jewish Representative Council.
All spoke movingly and warmly of their long association with Mayer.
Who there can ever forget the the moment when Chazan Muller and the choir called Mayer up with a wonderful 'yamod'. The entire congregation stood and clapped as Mayer was escorted to the bimah.
Rep. Council Executive members Cllr Michelle Wiseman, Judith Hayman and Michael Rubinstein were present to witness this inspiring and moving occasion.
A video of Mayer's receiving of his DEd. can be be seen in the first 30 minutes of the video at the end of this post.
I have known Mayer for about 20 years and I cherish that friendship. We even found that we are 'landsleit' with my family coming from his home town.
For those interested, I have written on my own website about a particular meeting with Mayer which is typical of the great man. You can read that here.
(Ray Cook)