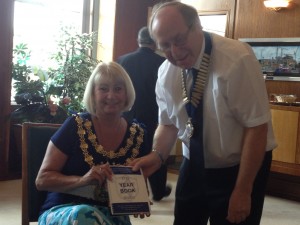 The President of the Jewish Representative Council, Frank Baigel, recently paid a courtesy call to the newly-elected Mayor of Bury accompanied by Rabbi Tony Walker, Jacky Buchsbaum, Linda Jacobs and Malcolm Solomons.
They told the Mayor about the Jewish Community, its history and religion as well as the active role the Jewish Representative Council plays on  Education Committees, Police Advisory Groups and various interfaith organisations such as CCJ, Hindu-Jewish Association  and  the Muslim-Jewish  Forum.
The  Mayor showed great interest in the various aspects of Jewish communal, educational and welfare activities and was interested to hear of local connections in the Bury Borough.
The Mayor was presented by Mr Baigel with the Jewish Representative Council's Year Book which gives details of all Communal organisations in the Greater Manchester area, a book on "What Jews Believe", and a  booklet about the centrality of Israel in Jewish Life.