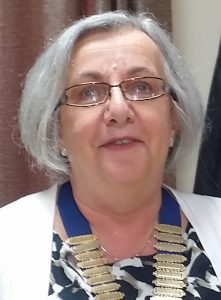 I don't need to repeat why we are all here today, what has prompted us to gather in such numbers.
Out of this evil has come a welcome and positive response by many people around the world. The Jewish Representative Council, along with other Jewish communal organisations have received a good number of messages from many faiths and individuals. All expressing shock and offering their support.
There are many opportunities to participate in interfaith work in Manchester and I encourage you all to consider taking part.
In times of need people unite and that has happened in Pittsburgh where the Executive Director of the Islamic Centre, Wasi Mohamed,  has said:
"Whatever the community needs, we'll be there for them," he added. "If it's guarding the synagogue; if it's walking to the grocery store; if it's to help them do anything they need to do in the city that they don't feel comfortable [with] – we'll be there to support them."
A fundraising page set up by Muslims Unite for Pittsburgh Synagogue has raised over $200,000.
The fact that this is needed is sadly becoming more common with rising global antisemitism.
Just a few examples:
Jewish teens assaulted, robbed in an anti-Semitic attack in France
Molotov cocktails thrown at a synagogue in Gothenburg
an 85-year-old Jewish woman brutally murdered in Paris, for being Jewish
Swastikas daubed in Jewish areas in many countries
Gravestones smashed and swastikas written on them
Men being advised not to wear their kippot in large cities in Germany for their safety
4 murdered in the supermarket attack in Paris
And 3 years to the day later another supermarket firebombed in France
In 2017 CST recorded 1382 antisemitic incidents in this country. That is one thousand three hundred and 82.
11 murdered last Shabbat, just doing what many do every Shabbat – going to their synagogue to pray.
The list goes on, I found these in just 2 short minutes this afternoon and other than the supermarket attack they are all in the last year. There were more, too many more but I just wanted to highlight a few of these hate incidents.
What starts with words does not end with words and there should be no tolerance for racism of any kind anywhere.
With that in mind, I call on everyone here today, your families, your friends, – Don't hide away from antisemitism, don't just be angry – you need to challenge hate speech whenever and wherever you hear or read it. Call out antisemitism for what it is: Ugly Racism. We should not be doing this alone. We need every teacher, every politician, every communal leader and all individuals to stand up to hate.
Never be afraid to be a Jew and don't passively rely on the few who are actively standing up for us all – be a strong opponent of the wrongs that are too frequently perpetrated by ignorant bigots and their clever manipulators.
Be strong, be proud, be heard.
Sharon Bannister BEM, President Manchester  and Region Jewish Representative Council