Sharon Bannister, JRC President, welcomed 40 delegates to the September meeting of the JRC at the Nicky Alliance Centre on Sunday. In her report to the meeting Sharon described how over the summer months she had attended a range of meetings and functions on behalf of the JRC and she has managed to meet with most of the Greater Manchester Mayors.
In July, she attended Collabor8, a Greater Manchester Police initiative, designed to bring together Statutory, Voluntary and Faith Groups in Bury to increase public understanding of what they do and what they offer. Sharon discussed the forthcoming Greater Manchester Mayoral elections and informed the meeting that the JRC will be holding a Mayoral Hustings event in 2017 to which all the candidates will be invited.
Sharon expressed her disgust at the behaviour of some of attendees at the Olympics towards the Israeli athletes and her admiration of the way Israel is providing medical care for casualties of the Syrian conflict.
The Jewish Community Awards will be held on Tuesday 29th November 2016 and this year includes 10 different categories. Sharon encouraged delegates to consider who they might wish to nominate from their organisations.
Jonny Wineberg, JRC Chair of Executive, put forward a motion to Council opposing the NHS Bury CCG proposal to close Walk-in-Centres. This received unanimous support and JRC Officers will be writing to the CCG expressing the view of Council that "the Prestwich Walk-in-Centre should remain open as it is a well-designed and well used service".
Guest speaker at this month's meeting was Marc Levy, the new North West External Affairs Manager for the Jewish Leadership Council. Marc introduced himself and the JLC, describing how his organisation acts as an umbrella for more than 30 major Jewish organisations and works closely with other organisations such as the Board of Deputies.
Marc is one of three regional managers currently employed by the JLC and there are plans to employ a further two. The JLC has published its Public Policy which defines what it considers to be key issues for Jews living in the UK. These include domestic, national and foreign policies which have informed Marc's objectives for the next few years.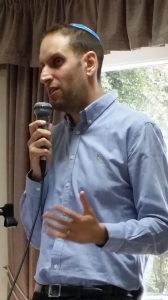 Marc described the meetings he has had with 25 MPs and has a further 15 meetings booked in his diary. He aims to have met with around 50 by the end of the Year. He has met with MEPs, Christian friends as well as many of the Jewish communal stakeholders. Marc has also met with nearly all the Leaders of the Combined Authority Councils whose decisions have a direct impact on the wellbeing of the Jewish community. Having lived in Manchester all of his life, Marc feels that he is privileged to represent his home community and discuss the issues that are relevant to the Jewish Community.
A common finding from many of his meetings is a lack of knowledge and awareness of the Jewish Community by many of the non-Jewish Community Leaders, as well as a poor understanding of the Israel-Palestinian situation. However, irrespective of their views on the current situation in Israel, they have all committed to support a 'Two State Solution' with Israeli and Palestinian States living side by side in peace and security.
Marc has been heartened by the interaction he has shared with the region's Labour MPs and, without exception, they have categorically given the community their full support in fighting racism within their ranks. During his meeting with MPs he has promoted the Holocaust Education Trust's "Lessons from Auschwitz" project and many MPs have committed to accompany their local school parties on trips to Auschwitz.
Marc is keenly aware of the domestic issues that are currently affecting the local Jewish community and he is grateful to all the communal stakeholders who have taken the time to meet with him and discuss pressing issues including education, housing and social care. He feels that we are very fortunate to have The Fed, excellently led by Karen Phillips, which is a model of care that other communities are keen to emulate.
Marc also discussed the problems Jewish students are experiencing on University Campuses. Jewish students need to be informed and knowledgeable in order to be able to respond in an informed manner to any anti-Israel or antisemitic attacks. He will be meeting with Vice-Chancellors to discuss Jewish students' problems and will be arranging for members of JSoc to meet with local MPs to talk about campus matters.
Manchester will be electing a Mayor with wide ranging powers in May 2017 and Marc is presently drafting a communal manifesto that will be handed to the candidates. The document will have a series of pledges focusing on the domestic needs of our community.
In terms of achievements so far, Marc described the national database to which he and his colleagues are contributing on the attitudes of MPs towards Israel and their local Jewish Communities. He has started to feedback his findings to the relevant NW Jewish organisations both locally and nationally in order to inform their local planning and actions. This work is fully supported by his JLC colleagues in London who are able to follow up MPs when they are in London.
Marc stressed the need to respond rapidly and in strength to any threats to the Jewish community and Israel. Large numbers of letters to MPs can have significant impact by influencing attitudes and policy. Local organisations need to be more proactive and make greater efforts to meet with non-Jewish Leaders who are only too willing to have an opportunity to discuss Jewish issues.
Sharon expressed how pleased she was to hear about everything Marc had achieved in the relatively short time that he has been in office and wished him much success in his role in the future.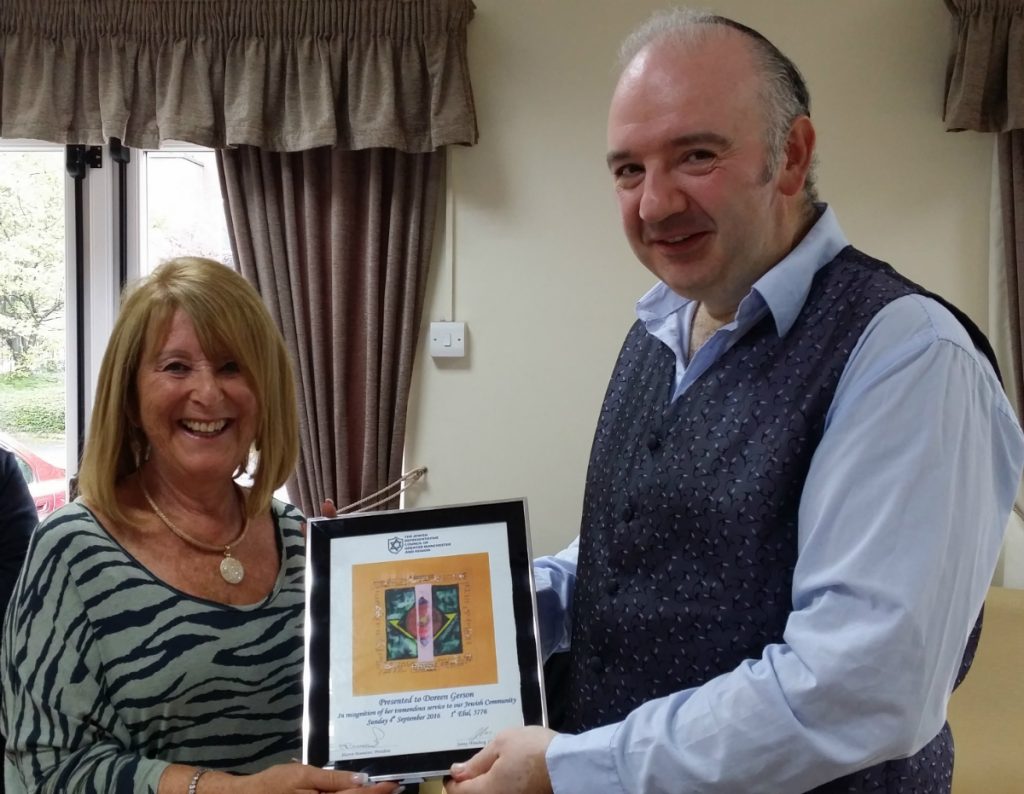 Jonny Wineberg made a presentation to Doreen Gerson who has been the driving force behind the Israel Information Centre for the past 32 years and is retiring from her role as its Director. Doreen described some of the work that she and the IIC had carried out since its launch in 1984 promoting Israel and its many achievements. She has been instrumental in the successes of Trade Union Friends of Israel as a founding member, for many years its Director and latterly as its Executive Vice-Chair. She has taken more than 30 delegations of senior Trade Unionists to Israel in the last 30 years and has spoken at many fringe meetings to trade union delegates from grass roots members to many senior trade union leaders. She has made excellent contacts with the Christian community and especially church leaders. Doreen opened JPMP (now Makor) on Leicester Road more than thirty five years ago. Her media contacts are extensive and she has been an amazing representative of the Embassy here in the North West.
Lawrence Rosenberg, President of Manchester Jewish Society, was unable to attend in person to give a report on the current situation on Manchester University campuses. Instead he had submitted a report which was read out by Sharon Bannister.
In his report Lawrence informed the meeting that the Manchester Jewish Society has enjoyed an outstanding year with an incredible change of fortunes. The change has been so dramatic he would happily argue that there is not a better place to be a Jewish student in the country right now than Manchester. He has been able to convince the manager of Sainsbury's in the student area to stock kosher food for the first time, which will make a massive impact on the lives of religious and "kosher" students. All the Jewish organisations are working together to provide an inclusive Jewish experience for students from all backgrounds including religious, modern orthodox, reform, liberal and everything in between. This is a complete change in the overall Jewish experience on offer to Jewish students.
They are now averaging more than 60 students for their Friday night dinners and numbers at every event have seen an upturn, which has meant the overall atmosphere around the Jewish society has improved significantly. Students are enthusiastic about the society again and are desperate to get involved. There has been a large variety of events taking place on campus including welcoming the Israeli ambassador into their own synagogue, which was a massive coup for JSoc.
Lawrence feels that there is still much work to be done but it is credit to the hard work of the committee and all of the Jewish Society that they been able to achieve all that they have in such a short time. Sharon Banister congratulated Lawrence and his committee on their achievement and wished them every success in the future.
Clive Moss-Barclay