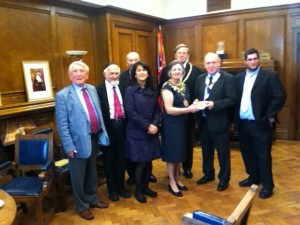 President Frank Baigel led a courtesy visit to the Mayor of Trafford, Cllr. Patricia Young.
Pictured from the Left: Len Rose of Sale Synagogue, Harry Lesser, Centre for Jewish Studies at Manchester University, Louis Rapaport, past President of the Rep. Council, Marcelle Doweck, Exec., Mayor Cllr Patrica Young, consort Cllr. Michael Young, Frank Baigel and Natan Fagleman, minister of Sale synagogue.
Rabbi Amir Ellituv of  Hale Shephardi  Shul  was  also  there  -but  came after photo taken  so you can say he took  this  !